National webinar on topic Memoirs of Major Dhyan Chand and Replication in Contemporary times
Rajbir Kaur (Arjuna Awardee) and Former Captain of Indian Field Hockey Team shared her experiences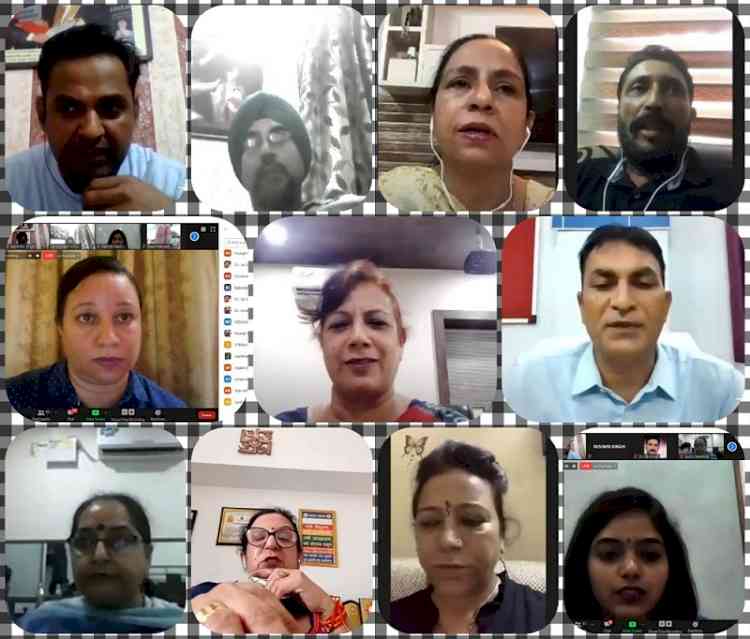 Jalandhar: Department of Physical Education & Sports and IQAC   of PCM S.D. College for Women, Jalandhar organized a National Webinar on the topic "Memoirs of Major Dhyan Chand & Replication in Contemporary times" on the eve of National Sports Day.  The Special guest of the day,  Mrs. Rajbir Kaur (Arjuna Awardee) and Former Captain of Indian Field Hockey Team shared her experiences with participants and gave many examples of Major Dhyan Chand's dedication towards his passion for hockey which helped India to procure three Gold Medals in Olympics. The Resource Person, Dr. Rajeev Choudhary (Professor) in Physical Education, Pt. Ravishankar Shukla University enlightened the audience by delivering practical examples of Sports training specifically on the topic "Physical Fitness Awareness with Respect to Current Scenario".

The panelists of the webinar Dr. Nishan Singh Deol, Professor& Head, Department of Physical Education Punjabi University Patiala focused upon the usefulness of four pillars of health and immune system i.e. exercise, meditation, diet and sleep especially in the times of Global Pandemic and discussed about the inclusion of Physical Education as a compulsory subject in all streams in New Education Policy. Dr. Baljinder Singh Bal (Assistant Professor) UGC Research Awardee, Recipient of Minor & Major research project in Physical Education, Guru Nanak Dev University, Amritsar, acquainted the participants about the current scenario of Sports & Games especially in PUNJAB and the New Sports Universities of INDIA those are being established. Dr. Harmanpreet Kaur (Associate Professor) Lovely Professional University, shared Physical Education as a compulsory subject for all the streams E - Content to be used in online classes in the subject of Physical Education. Mr. Jatinder Sabhi (Sports Journalist Daily Ajit) who covered numerous International Tournaments, gave information of National Sports Awards Distribution function and its live telecast through online mode for the first time by Ministry of Youth Affairs & Sports. Mrs. Baljeet Kaur (Senior SAI Hockey Coach, NSNIS Patiala, gave information about E- Paathshala for online coaching in hockey as well as other sports. Mrs. Alka Sharma elaborated about the Fit India Movement initiated by our worthy Prime Minister Shri Narendra Modi on 29th August 2019. She explained in detail various activities conducted by PCM S.D. FITNESS CLUB under the supervision of Nodal officer, Mrs. Parmjit Kaur under UGC guidelines.

It is worth mentioning that there were about 430 participants who showed keen interest in the National Webinar conducted on Zoom App and YouTube Live stream. Principal Dr. (Mrs.) Kiran Arora appreciated the efforts of initiated by Mrs. Parmjit Kaur, Head, Department of Physical Education & Sports, Mrs. Sangita Sharma Head, PG Department of Economics and Coordinator (IQAC) and Mrs. Alka Sharma (Co-Coordinator of Fit India Movement) Head, PG Department of Commerce & Management.