National seminar on "The interlinkages between poverty, pollution and environment: Challenges and opportunities"
Event held at Panjab University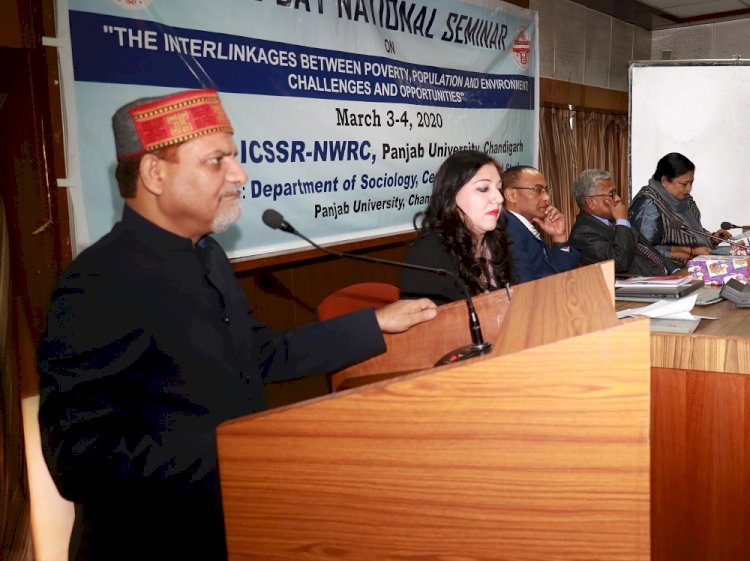 Chandigarh: Department of Sociology, Panjab University, Chandigarh, organized a National seminar on "The interlinkages between poverty, pollution and environment: Challenges and opportunities", here today.  With the welcome speech and theme, 
Dr. Rani Mehta, Chairperson in her welcome address introduced the theme of the seminar focusing on poverty and population as interlinkages. 
Prof. Raj Kumar, Vice-Chancellor, P.U., Chandigarh stressed on the adoption of strategies for shorter environmental period rather than longer duration to solve issues related to pollution, demography and environment in his inaugural address. He also talked about the use of alternatives in place of plastic to make the country plastic-free. 
Dr. A. Abate, Senior Environmental Specialist, New Delhi discussed the challenges posed by economic growth, its impacts, strengths and weaknesses in Indian policies and solutions in his key address. He stressed on adoption of holistic approach and green growth strategies to solve the environmental issues. 
Padma Shri Dr. Digambar Behera, Dept. of Pulmonary Medicine, P.G.I.M.E.R., Chandigarh talked on the relation of poverty with pollution and health and also about degradation of environment resulting in the loss of persons, family and ultimately society. He said that pollution caused disability, non-communicable and respiratory diseases and pre-mature deaths involving direct or indirect costs for affected people and society. He stressed on the need to adopt multi-sectoral partnership and planning to reduce pollution and achieve the Sustainable development goals. 
In the conclusion, Prof. Kumool Abbi (CAS Coordinator and Honorary Director PRC., P.U. Chd) presented a vote of thanks to panelists organizers, scholars and students.