National Doctor's Day acknowledged in Ludhiana.
Today 1st July 2022 being National Doctors Day a special event was held in Ludhiana to highlight this year 2022, Doctor's Day theme "Family Doctors on the Front Line".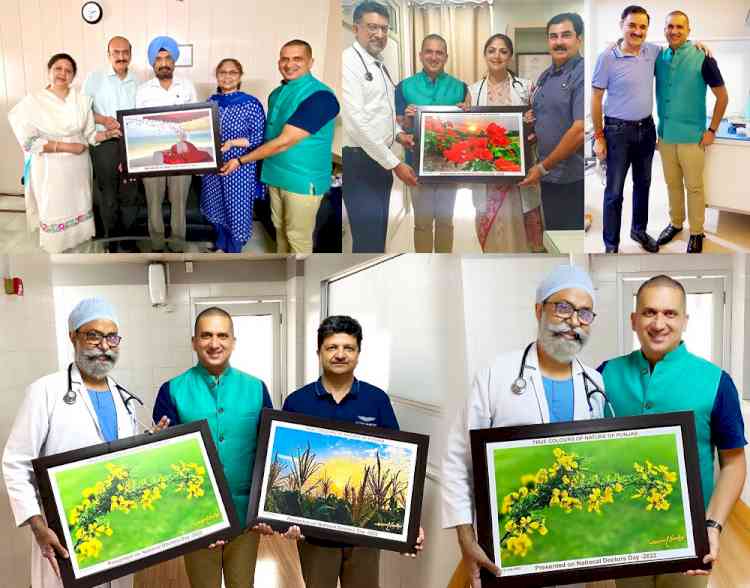 Ludhiana's prominent Doctors Dr. Bishav Mohan and Dr. Gurpreet Wander, along with Dental Surgeon Dr Vivek Saggar , Dr Vani Thapar, Dr Neeraj Thapar , Dr Amit Moudgil, Dr Gurdip Sidhu , Dr Ravinder Sidhu, Dr Gursaran Sidhu and Dr Harjot Sidhu being felicitated by Nature Artist Harpreet Sandhu on eve of National Doctors Day today in Hero DMC Ludhiana.


Ludhiana, July 1, 2022: As the Doctors are essential parts of our lives and a boon for the entire humanity and medical profession is considered a pious profession around the globe, as Doctors are the only hope for the ailing from their sufferings and at one stage patients trust their Doctor next to God. Today on the eve of National Doctors Day, Sewa Sankalp Society under the patronage of Padma Shri Dr. Surjit Patar and Vice President Nature Artist Harpreet Sandhu not only acknowledged the dedicated efforts of City Doctors within the Society but prepared a Special portrait depicting the importance of Doctors in Human life.
Today 1st July 2022 being National Doctors Day a special event was held in Ludhiana to highlight this year 2022, Doctor's Day theme "Family Doctors on the Front Line" which reminds us all of this noble profession, wherein the prominent Doctors of Ludhiana, who not only made the City proud with their remarkable contribution within the society but have attained laurels for the State such as Dr. Bishav Mohan, Dr. Gurpreet Wander, Dr. Vivek Saggar, Dr. Vanie Thapar, Dr. Gursaran Sidhu, Dr. Gurdip Sidhu, Dr. Ravinder Sidhu, Dr. Harjot Sidhu, Dr. Niraj Thapar, Dr Amit Moudgil and other Doctors were felicitated by Sewa Sankalp Society keeping in view the colossal medical services being provided by them to the City residents  and acknowledge their outstanding role keeping in view their tireless work on the front line during the COVID-19 pandemic phase. The respective Doctors appreciated the special token of Gratitude prepared by Nature Artist – Vice President Sewa Sankalp Society Harpreet Sandhu different Portraits depicting the Nature of Punjab being presented to them, will be a memory on this National Doctors Day 2022. City based eminent  doctors Dr Gurpreet Wander and Dr Bishav Mohan applauded the initiative of Nature Artist Harpreet Sandhu to depict the special potraits deoictinf the Importance of Doctors day as well on Nature of Punjab