Mother's day celebrated at CGC Landran with much fanfare
Mother's day was celebrated with fervour at the Chandigarh Group of Colleges, (CGC) Landran.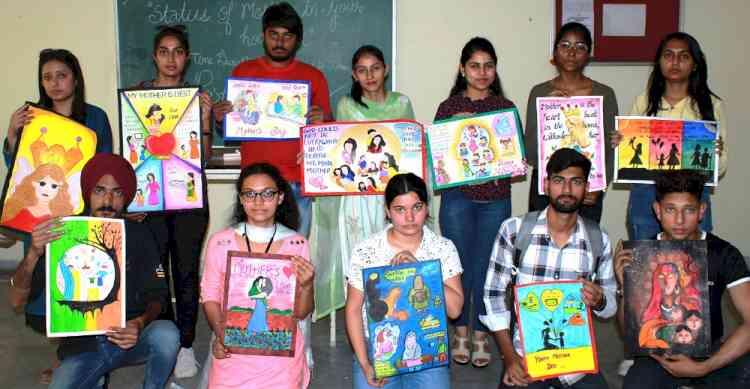 CGC students posing with their posters wishing Happy mother's day.


Chandigarh, May 6, 2022: Mother's day was celebrated with fervour at the Chandigarh Group of Colleges, (CGC) Landran. Commemorating the special day as 'Maa-Ostav', students from across all streams participated in a plethora of activities including card making, photography, poem recitation, poster making, stand-up comedy presentations, and cooking competitions. 
Neha, a 1st year student of BSc. Microbiology who won the first position in the card making competition said, "I dedicate this achievement and my creation to my mother. I personally believe that mothers are to be celebrated and cherished every moment. Their tireless dedication, selfless affection and time devoted to taking care of their families make them a divine blessing." 
Shivam Sharma, winner of the 'cooking without fire competition' and a 2nd year student of the Chandigarh College of Hospitality, CGC Landran said that he planned to surprise his mother on her birthday by preparing the winning recipe as a special treat since he would not be able to  meet her this mothers' day. Another highlight of the celebrations was a special message for all the mothers from the team of upcoming Punjabi movie Saunkan Saunkne featuring actresses Sargun Mehta and Nimrat Khaira who were visiting CGC campus today. Wishing all the mothers everywhere, a very happy Mothers' day, they attributed their success to their mothers and thanked them for being strong and great role models for them to look up to.  
The event wrapped up with a special prize distribution ceremony for the winners of the various competitions under Maa-Otsav. Gurpreet Singh and Disu Rana bagged the first and second prizes in poem recitation competition. Kaustabh and Abhi secured the first and second prizes, respectively, in the Stand up comedy competition. Manpreet bagged the first prize in Poster making competition with Deepak securing the second prize. The winners were felicitated with trophies and certificates.