Motherhood Fertility & IVF launches the Next-Generation Fertility treatment center in Chandigarh
Delivering comprehensive fertility treatment through an interdisciplinary & extensive clinical care approach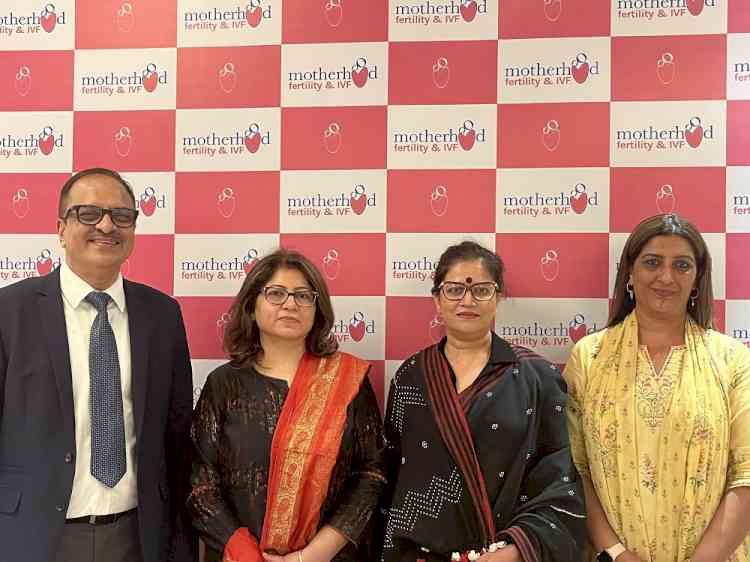 From Left to Right: Dr. Neeraj Kumar, Dr. Vandna Narula, Dr. Poonam Garg and Gagan.


Chandigarh, July 20, 2022: Motherhood Hospitals, a renowned chain of women and children's hospitals launched Motherhood Fertility & IVF, a state-of-the-art Fertility Treatment Centre in Chandigarh today. Motherhood Fertility & IVF forays into Chandigarh & Tricity after entering a strategic partnership with Chaitanya Hospitals – an institution that is delivering exceptional care in mother and child health for over 30 years in the region.
The center brings in a multidisciplinary care approach to couples seeking fertility treatment by combining clinical expertise, with the next gen technology in embryology, a state-of-the-art IVF lab and an allied team to support couples' journey to achieve a positive pregnancy.
Speaking at the launch, Vijayarathna Venkatraman, CEO, Motherhood Hospitals said, "The need for fertility care is increasing across the country and a significant demand is from couples in Tier 2 & 3 cities finding it difficult to conceive naturally. With our complete service offering in fertility treatment, we aim to provide high quality care accessible to the couples & families in Chandigarh, Tricity & neighboring areas to fulfill their hope of parenthood."
 
Sharing his views on the launch, Dr. Neeraj Kumar, HOD & Chief Consultant, Pediatrics, Motherhood Chaitanya hospital, Chandigarh, Motherhood Chaitanya hospital, Chandigarh, said, "We are extremely enthralled to partner with Motherhood and extend our offerings in women, childcare, and fertility care. We have been providing fertility services for more than 10 years with high success rates/ outcomes and with this partnership, we are looking forward to providing outstanding service to all our patients."
Dr. Poonam Garg, HOD & Chief Consultant - Obstetrics & Gynecology, Motherhood Chaitanya Hospital, Chandigarh said, "Most IVF pregnancies are precious and require a specialized care approach. We are extremely proud to have a cohesive team of specialists at Motherhood IVF who ensures all the pregnancies that happen through IVF are provided personalized care during the antenatal period and at the time of delivery."
Expressing her thoughts, Dr Vandna Narula, Senior Consultant- Fertility & IVF, Motherhood Fertility & IVF, Chandigarh said, "According to various studies and reports, 10 to 15% of Indian couples are suffering with fertility issues. Consequently, it gets difficult for them to conceive through natural means. Not only this, 1% of these couples undergo fertility evaluation. The rate is even lower in Tier 2 and Tier 3 areas where there is stigma and lack of awareness around infertility.  Awareness on fertility issues & treatment options available should be encouraged for helping such couples seek timely intervention."
 
Marking the occasion, Motherhood Fertility & IVF launched a special Adoption Counselling Service that acts as an aid to educate couples on adoption policies & process. This unique service has probably been introduced for the first time in an IVF centre. There are couples who have very poor chances of success with IVF. Adopting a child is a very good option for them. Our counsellor will sensitize these couples on the possibility and process of adoption. Adoption provides a child to a needy couple and a family to an abandoned child.