More than 2900 beneficiaries avail facility during three MGSVY Camps at Ferozepur
DC envisions MGSVY as catalyst in ensuring holistic development of all sections of society in state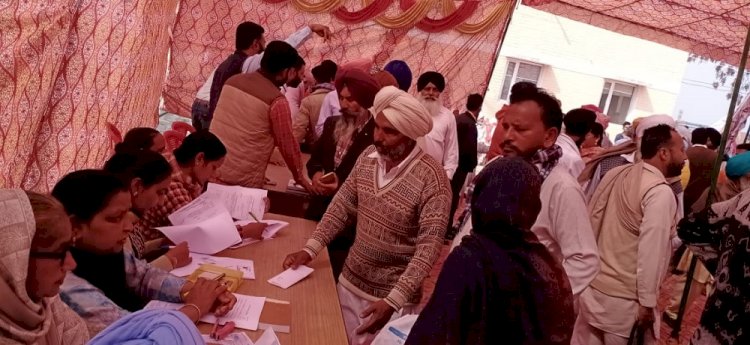 Ferozepur: To bring the benefits of various pro-people schemes of the state government to the grass-route level, the district administration on Tuesday organized three public facilitation camps under Mahatma Gandhi Sarbat Vikas Yojna (MGSVY) in block GhallKhurd, Mamdot, and Guru Har Sahai.
All three camps received an overwhelming response from the public as more than 2900 people registered themselves for availing the benefits of various schemes of the state government. 
 
Divulging the details, Deputy Commissioner Ferozepur Mr. Kulwant Singh said that more than 2900 applicants got themselves registered for the various services. 
 
The deputy commissioner added that these camps were aimed at providing the benefit of various pro-people schemes of the state government to the people under a single roof. He said that under the MGSVY camps people get an opportunity to avail various services at their doorstep as they do not have to go to various government offices for the same.
 
He said that the Mahatma Gandhi Sarbat Vikas Yojna besides setting new milestones in the public service has proved to be a boon for the people especially for the rural folk as a sea of humanity converging at these camps to avail the benefits of various pro-people schemes at their doorsteps. He added that the sole motive of this flagship scheme of state government was to ensure that the needy people could get the benefits of the schemes of the government. The deputy commissioner envisioned that the MGSVY is acting as a catalyst in ensuring the holistic development of all sections of society in the state.
 
While overseeing the arrangements at all three camps the ADC (Development) Mr. Ravinderpal Singh Sandhu and SDM Mr. Amit Gupta exhorted the people to take maximum advantage of these camps as each month MGSVY camps were being organized at different locations.
They said that all the key departments of the state government including Health and Family Welfare, Social Security, Agriculture, Cooperative, Employment Generation, Revenue and others were roped in to deliver services to the people during these camps in which special stalls are installed by them.
On the occasion, Secretary Jila Parishad Gurmeet Singh Dhillon, DDPO Harjinder Singh, and other officials were present.