Modi government must roll back the price hike on fuel: Rajinder Beri, Angad Dutta
Youth Congress Jalandhar burnt effigy of Modi against hike of petrol and diesel prices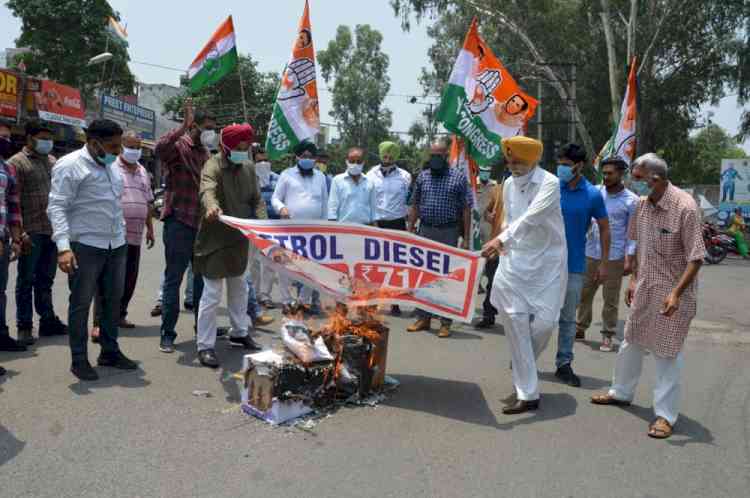 Jalandhar: Today Youth Congress Jalandhar burnt the effigy of Prime Minister Narendra Modi against the hike of petrol and diesel prices across the country. The protest march led by Rajinder Beri MLA and Angad Dutta President Jalandhar Youth Congress, started from Congress Bhawan, Rajinder Nagar, Jalandhar to DC Office and burn the effigy of Prime Minister.
During the Protest Rajinder Beri said that in the present scenario the Modi government is failed in all the fronts. The focus of the central government seems to be shifted from helping livelihoods to revenue generation. While entire country is battling the coronavirus, increase in diesel and petrol prices by the union government has shaken the finical conditions of the people. People had lost their earning during the lockdown but instead of helping the people government is regularly increasing the price from last two weeks. Whereas the price of crude oil is reducing in the international market to 40 (US Dollar), the government has imposed the burden of Rs 1 lakh crores on the general public.
Angad dutta said that hiking taxes on the fuel is an insensitive move on the part of the government. Rising fuel price on fuel will hit the agriculture sector hard. Most of the irrigation pump operations require diesel. From sowing to harvest and irrigation, at each level, our agriculture is heavily consuming diesel fuel. The rise in fuel price is happening at the time when farm wages have almost doubled in many places. He said the recent round of hikes in fuel prices will only burn a hole in the farmers' pockets, while there are not enough earnings as most agriculture commodities are traded below their MSP levels.
Those who were present are Randeep Sandhu President AYC Jalandhar Cantt, Abhishek Jain, Jaskaran Sohi General Secretary DYC, Charanpreet Channi General Secretary DYC, Harmeet Singh, Ram Dadral, Amam Dhanowali, Sunny Narula, Rocky Nahar, Vinod Kumar, Sunny Kumar AYC Jalandhar North and others.