MLA Angad Singh initiates sewerage project worth Rs 9.33 crore in three localities
Reiterates the firm commitment of the state government to ensure holistic development of Nawanshahr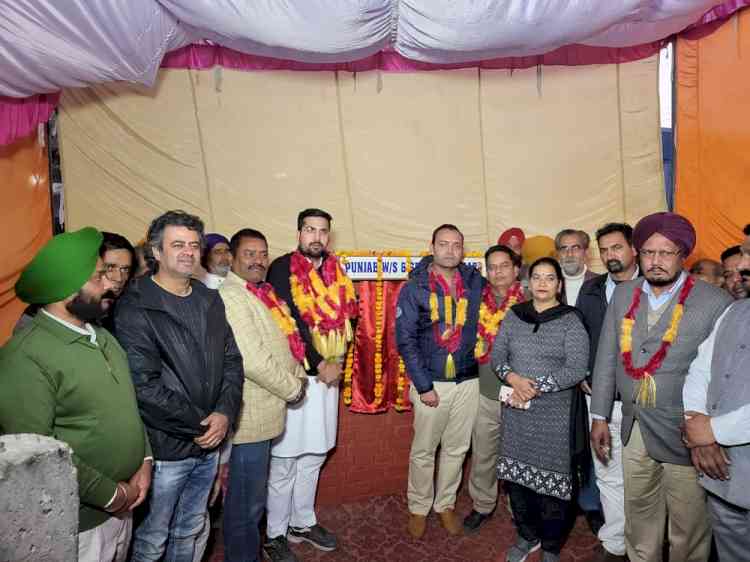 Nawanshahr, November 30, 2021: Member of Legislative Assembly (MLA) Angad Singh on Tuesday inaugurated the work of a sewerage laying project worth Rs 9.33 crore in three localities including Mussapur road, Karyam road and Church colony of the city.
Accompanied by MC President Sachin Dewan and other dignitaries, MLA Angad Singh laid the foundation stone and said that the sewer pipeline would be laid on 13-km stretch and 1377 households  would be benefited in these areas under the project .
He said that the project would be accomplished within next nine months and asked the officials to carry out the work in fast pace manner.
He said that it was long pending demand of the residents of these areas and
asked the officials to keep close vigil on the functioning of the executive agency carrying out the work here so that quality cannot be compromised at any cost.
He said that Municipal Council has undertaken multi-crore projects for all-around development of city and would leave no stone unturned to benefit the people of the city.
Reiterating the firm commitment of the state government to ensure holistic development of city, MLA said that every promise made to people would be fulfilled by the Punjab Government.
Prominent among the present on this occasion, included Sachin Diwan, President Nagar Council Sachin Diwan, Chairman Improvement Trust Dr Kamaljit Lal,  Chetram Ratan and Balwinder Bhumbla (MCs), Romi Khosla, Rohit chopra, Arun Diwan, Karan Diwan, Lalit Sharma, Manjit kaur, Rajindar Mehta, Sunil Samplay and Raja Sabharwal.