MLA along with both top officials himself flew kites with normal strings 
MLA, DC, and SSP reach out to people with kite strings, exchange with Chinese Strings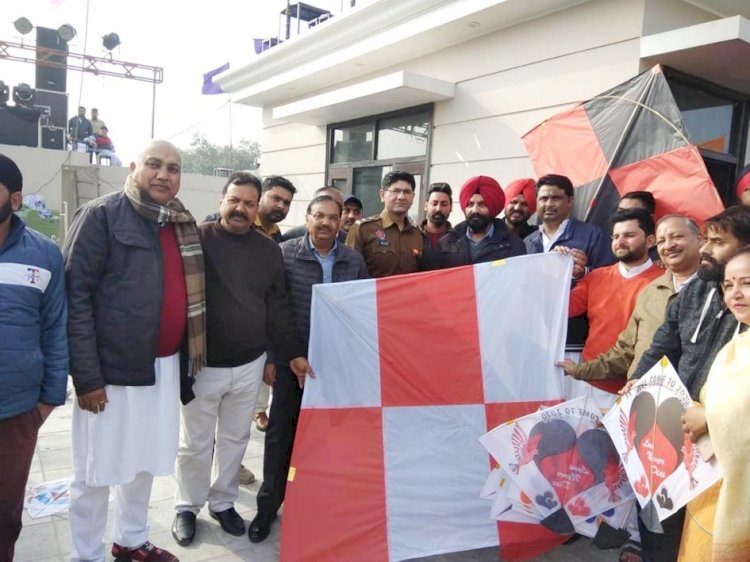 Ferozepur: Taking a unique initiative to aware people against the use of Chinese Strings, MLA Parminder Singh Pinki, Deputy Commissioner Chander Gaind and Senior Superintendent of Police Viveksheel Soni on the eve of Basan Panchmi reached out to people with the bundle of normal Indian made strings. The MLA, DC, and SSP on Thursday visited the various localities of the Ferozepur, where they exchanged the normal strings with the Chinese one. The MLA collected Chinese strings from the people and in return gave them the local strings to promote the use of normal kite strings.
Interacting with the media persons, MLA Parminder Singh Pinki said that the initiative was taken keeping in view the harmful effects of Chinese strings on people, especially on birds. He said that he has visited around dozens of localities in the Ferozepur cantonment and city, where he along with DC Chander Gaind and SSP Viveksheel Soni shared the festivities of Basant Panchmi. He said that the Basant Panchmi festival of Ferozepur is world-famous and people from abroad especially visit Ferozepur to witness the festivities and charm of Basant.
Deputy Commissioner Chander Gaind said that the district administration has already banned the sale of Chinese strings but that was not quite enough as only mass awareness could eliminate this evil from the society. He hailed the unique efforts of MLA Parminder Singh Pinki to reach out to people and distribute them normal Indian made kite strings, which is not harmful to any human or animal life. He said that it was one of the finest ways to promote the use of normal strings and discourage the Chinese one.
SSP Vivek Sheel Soni said that awareness was one of the most crucial components to instill a behavioral change in society and this initiative would prove a turning point in this direction.
The MLA, DC, and SSP themselves flew kites with the normal strings and shared the festivities of Basant Panchmi besides having the special dishes prepared for the festival. A large number of people took selfies with the MLA, DC, and SSP as they were surprised to see the prominent personalities of the district on their rooftops.