Mayank Foundation felicitates 31 teachers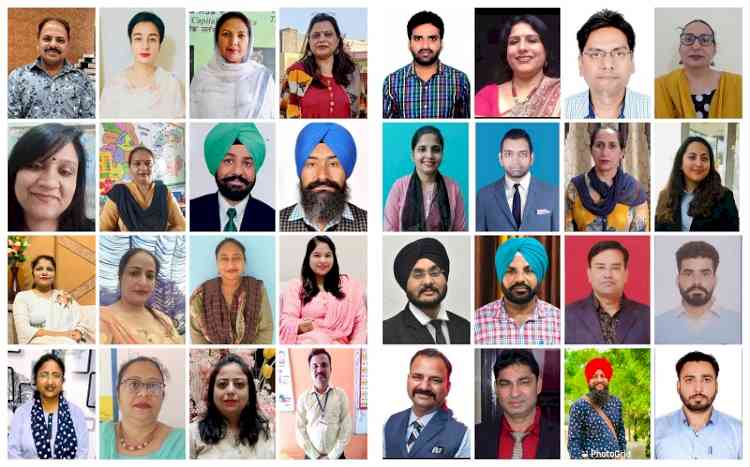 Ferozepur, September 12, 2021: Continuing their annual feat to honour the nation builders for their valuable role in society, Mayank Foundation, a Ferozepur- based NGO felicitated 31 teachers from various colleges and schools of the town. 
The event was presided over by Anirudh Gupta, President of the foundation at Maneksha Hall of DC Model School. The program was kick- started by lighting of the ceremonial light. 
Secretary Rakesh Kumar informed that the selection of honored teachers this year was based on the nomination of school principals and these teachers did special work even in corona period and kept the lamp of education burning.
In his address, Anirudh Gupta gave a keynote talk on the evolving paradigms in the field of education and the dire need to bring changes in the classroom transaction to make the learning more effective. He also urged the teachers to pay special attention to the teaching of social values in the students so that they can become good citizens and serve the society and the country.
The nominated teachers also included the latest State Award winning teachers Meenakshi Tandon,  Jaswinder Kaur and Principal Suman Kalra. They were presented a badge of honour and a shawl each.  
 The other teachers who were awarded included Harmandeep Singh Sandhu, Prof. Tejit Singh, Prof. Sapna Badhwar, Dr. Paramvir Singh, Prof. Anupama, Professor Rajinder Kaur, Rohtas Malethia, Archana, Jaswinder Singh, Sukhjinder Singh, Anu Dhawan, Ashwani Sharma, Satpal Gumbar, Seema Garg, Dharinder Sachdeva, Binu, Gurkamal Singh, Davinder Singh, Gursahib Singh, Mukta Grover, Tanya, Iqbal Chand, Parminder Singh, Monica Sharma, Nirmal Singh, Bibek Anand, Rishu Sikri, Surinderpal Kaur, Kanwaldeep Kaur and Nisha Sharma.
On this occasion, Deepak Sharma congratulated all the teachers and appealed them to join the road safety campaign of Mayank Foundation and said that only the teachers can inspire the society for road safety.
Principals Sanjeev Tandon, Kamal Sharma, Davinder Nath, Sandeep Sehgal, Yogesh Talwar, Deepak Narula, Charanjit Singh, Arun Kumar, Anil Machral and dignitaries from Mayank Foundation were present on this occasion.