MANAGEMENT OF STROKE DURING COVID-19 PANDEMIC
ACUTE STROKE CAN BE DEVASTATING IF TREATMENT IS DELAYED OR DENIED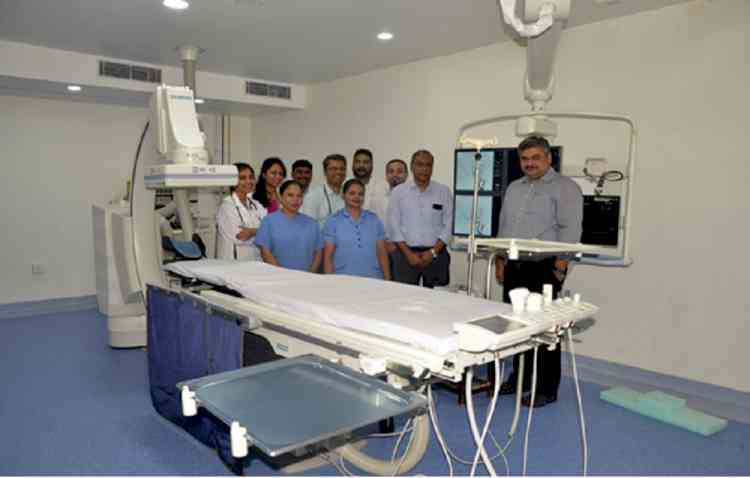 Ludhiana: During the ongoing pandemic of COVID-19 and the current lockdowns in place, it may be easy to overlook some of the other diseases other than COVID-19 that may affect us and may cause more damage in the long run, in terms of disability and loss of working days. Among them is Acute Stroke which can be devastating if treatment is delayed or denied. 
Dr Anirudh Kulkarni, Assistant Professor (Department of Neurology) who has done fellowship in Neuro-intervention stated that Stroke or brain attack is the leading cause of death and disability. "Early treatment of stroke is of paramount importance as it can reduce the disability associated with stroke". Recent advances in stroke treatments have introduced newer treatments like removal of the clots that block the blood supply to brain by using special stents called "clot retrievals". These treatments are currently only available at the Neuro Cath Lab at CMC & Hospital, Ludhiana.
Dr Jeyaraj D Pandian, Professor (Department of Neurology)and Principal, Vice-President of World Stroke Organization mentioned that with the current ongoing pandemic, it may be easy for the patients to not notice or ignore minor symptoms of stroke, which could have a negative impact on the outcomes. Dr Pandian said that some patients may fear coming to the hospital due to the risk of contracting the coronavirus. However, the hospital has made necessary arrangements to screen and isolate patients with the coronavirus infection and reduce the risk of cross infection. 
Dr Rajeshwar, Assistant Professor (Department of Neurology) said that special arrangements are in place for stroke patients (STROKE CODE) for rapid screening and triage of patients so that the delay of going through COVID screening is reduced. Patients must reach CMC as early as possible, preferably within 0-9 hours of stroke for clot bursting injection; however, with the newer facility clots can be pulled out from brain arteries using stent retriever up to 24 hours. 
Dr Kulkarni stated that new technology is available in only select premier institutes in Northwest India. He added that clot removal treatment using stent has a better outcome as compared to many other acute treatments for stroke. Dr Vineeth Jaison, Associate Professor (Department of Neurology) mentioned that the acute stroke care in CMC continues to be offered with the same urgency and passion during the times of this epidemic, for which it is known in the region. 
Dr Ivy Sebastian, Assistant Professor (Department of Neurology) stated that during this pandemic patients with high blood pressure, high blood sugar, high cholesterol need to take the medications regularly in order to prevent a stroke. These patients are also at higher risk of getting severe COVID-19 infection, hence, it is very important to take medications. 
Dr William Bhatti lauded the efforts of department of Neurology in continuing to strive to fight and educate the people about acute stroke treatment in this current period of lockdown and pandemic. He also lauded the efforts of Dr Pandian in getting noble and elite citizens of the city of Ludhiana to donate to a fund that will be utilized for offering stroke treatment for poor and needy of the society. CMC administration sincerely thank and acknowledge the contribution of Mr S P Oswal, Chairman, Vardhaman Group to support poor stroke patients who are eligible to avail this treatment. 
Stroke warning symptoms:
•    Sudden weakness in one side of the body
•    Sudden numbness in one side of the body
•    Sudden difficulty in speaking and understanding
•    Sudden imbalance, giddiness and unconsciousness
•    Sudden new onset headache
•    
IF PATIENTS OR RELATIVES NOTICE ANY OF THE ABOVE SIGNS, THEN THEY SHOULD NOT BE 'FEARFUL' OR 'SCARED' TO GO TO A HOSPITAL AND MUST SEEK MEDICAL ATTENTION IMMEDIATELY.

DOs and DON'Ts for patients with Stroke:
Dos:
1.    Take your medications regularly
2.    Maintain diet and exercise
3.    In emergency, contact the doctor immediately
Don'ts:
1.    Don't move out of the house unnecessarily
2.    Don't skip medications
3.    Don't be scared of going to the hospital in case of emergencies