Ludhiana Breaking: Fruit/vegetable venders directed to display rate list of items on their rehris
No person would be allowed to sell essential commodities above market rate: District Magistrate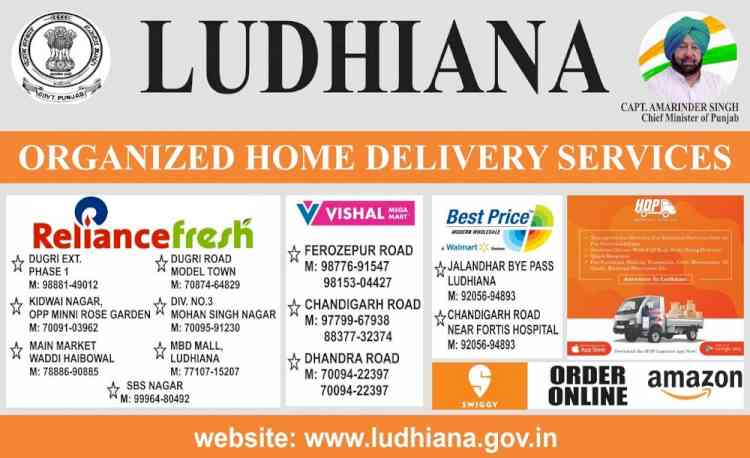 Ludhiana: In view of the ongoing lockdown in Ludhiana, District Magistrate-cum-Deputy Commissioner Mr Pradeep Kumar Agrawal have issued orders that fruit/vegetable venders would have to display the daily rate list on their rehris while selling their items to the city residents. He said that he had received some complaints in this regard and warned that no person would be allowed to sell essential commodities above the fixed price and any person violating these orders, strict action would be taken against them and their licenses would also be cancelled immediately.
    Mr Agrawal assured the residents that there is no shortage of essential commodities in the district. He said that all the essential commodities such as  vegetables, fruits, eatables etc are being supplied to the residents by the District Administration. He informed that organised home deliveries have also started with the support of private companies such as Reliance Fresh, Vishal Mega Mart, Best Price, HOP, Swiggy, Amazon etc.
    He informed that all the wholesalers of essential commodities have been allowed to transport essential commodities to shopkeepers so that they could be further supplied to the residents.
    In another order, the District Administration have provided some relief to the companies manufacturing or packing essential commodities such as bread, biscuits, cakes. Mr Pradeep Kumar Agrawal informed that as per the directions of the Punjab government, only 50% staff would be called in the factories, there should be at least two metre distance between two workers, the employees would have to wear face masks and gloves at all times while working, hand sanitisers should be provided at their workplace and the entire area should be sanitised daily.
    The Deputy Commissioner informed that the entire list of kiryana shops, chemist shops, etc have been uploaded on the District Ludhiana's official website, www.ludhiana.nic.in and the residents can check it there. He informed that the District Administration and Municipal Corporation Ludhiana have decided that any shopkeeper who does not offer home delivery, their license would be cancelled. The shopkeeper would have to follow the rules of the license at every cost. He also said that if any person wants to submit a complaint regarding issues related to black marketing and hoarding of essential commodities as well as any violation of the prohibitory orders issued by the government with regard to prevention of spread of Novel Coronavirus (COVID 19), they can do so at dedicated 24X7 helpline numbers of the district.
    He informed that a war room/complaint cell has been set up in the office of Additional Deputy Commissioner (Development) for the district, where residents can submit their complaints. He informed that a dedicated workforce of 138 officials from different departments have been handling this control room 24X7. The complaints can be submitted by calling 0161-2401347, 0161-2402347, 94172-28520, 0161-2444193, 91156-01158 and 94645-96757. Apart from this, various other control rooms have been set up by other departments namely, Civil Surgeon Office (0161-4622276), by SDM Payal (01628-244292, 01628-276892), Municipal Corporation Ludhiana (0161-4085039), Khanna Police (95929-14053), Police Ludhiana Rural (85560-19100), DFSC (0161-2453202, 0161-2454202).