LSS brings mega show dance drama "Shri Ram" by 30 artists of Shriram Bharatiya Kala Kendra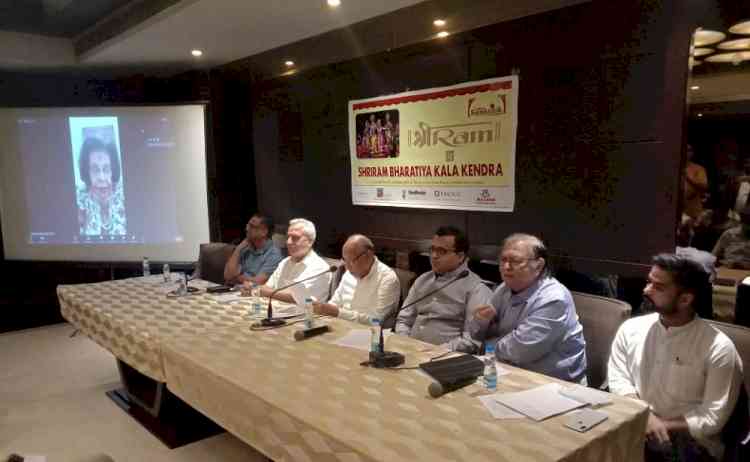 From Right to left - Sanjay Gupta, D K Sindwani (Vardhman), Amrit Nagpal (Vice President- LSS), Hemant Sood (Hempton Homes), S K Rai (Gen Secretary LSS) and Eshan Sood (Centex Fabric).
Ludhiana, October 16, 2021: Ludhiana Sanskritik Samagam (LSS) in serving society for more than 2 decade and it has brought almost everybody and anybody in the field of art & culture and created a new platform for likeminded people of Ludhiana.  We place on record our sincere thanks for sponsors and supports who have contributed thoroughly and help organizing 115 programmes by their support and contribution.  There could be no parallel example of such generous support to a cultural group in the country. 
Addressing a press conference here today, S.K. Rai, General Secretary, LSS said our last show as in March, 19  then  Covid disrupted activities of LSS and our members have been missing physical shows though we did organized virtual shows to keep our flag flying. However, as organizers, we maintain all Covid protocols and expect our members to be vaccinated and would be following necessary protocols as well.
He added LSS, on 23rd of October is bringing a mega show dance drama "Shri Ram" by 30 artists of Shriram Bharatiya Kala Kendra, New Delhi.  This will be the 116th show being organized by LSS and will be staged at Guru Nanak Bhawan, Ferozepur Road, Ludhiana at 7.30pm. Duration of the show will be 2 hour 20 minutes.
 
By and large, our large membership has not been affected by Corona Pandemic.   Now that we are restarting it was in the fitness of thing that we pay our obeisance to God and thank Him for his mercies through our first show post-Covid.   
 
Shriram Bharatya Kala Kendra is a premier cultural institute of the country,
 
Shri Ram is Shriram Bhartiya Kala Kendra's magnum opus based on the Indian epic of Ramayana, first produced in 1957 as 'Ramlila' and since been staged every year for a month during the festival of Dussehra (September–October). Created and designed in the distinctive dance-drama style, Kendra's iconic production has become a popular event in Delhi's annual calendar.
 
This maxim enunciated by Lord Rama, holds true eternally and universally. It illustrates not only through the unfolding of events in the Ramayana, but also in life as it moves through various courses today, where positive energy remains the fulcrum on which life's dynamics function."Ramlila" presents a beautiful amalgamation between reality and idealism, magnificent costumes, masterful lighting, perfect choreography and music, orchestrated flawlessly, by the custodian and nurturer of Indian cultural heritage, Shobha Deepak Singh (Director & Vice Chairperson, Shriram Bharatiya Kala Kendra),  who was awarded the Padmashri by the President of India. She also interacted virtually with the media persons at the press conference today.
 
Shobha Deepak Singh's in-depth, meticulous research on the Ramayan stands reflected in the 'Ramlila', which portrays familiar and endearing incidents from the epic Ramayana including the banvas of the revered 'Ram', Sita's unwavering love and faith in the face of several personal predicaments, Ravana's crafty strategies, Ram's unquestioning obedience to his father, his graceful acceptance and addressing of adversities of daily existence, his ability to transcend barriers of caste and creed through acceptance of Shabri's fruits, Hanuman's gigantic effort in getting the Sanjivanibooti, the scheming trickery of the golden deer and several other incidents, that carry the audience through a spectrum of emotions reflecting devotion, loyalty, family endearment, respect and honor to elders. All incidents remain in our mind till much later to endear and resonate, long after the curtain falls.
 
The Shriram Bharatiya Kala Kendra enjoys the distinction of being the first to present an aesthetically refined 'Sampurna Ramayan',that keeps the intrinsic spirit of the epic alive. Indeed Shriram Bharatiya Kala Kendra's 'Ramlila' is a legacy in itself and a significant segment of an effort to familiarize the audience with the country's cultural heritage.
 
During the last six decades, the Kendra's iconic production has travelled all over the country and to several overseas countries and has been witnessed by myriads of people.   The dance drama has been presented in many International Ramayan Festivals and has invariably been judged as one of the best productions of 'Ramlila'.
 
Shri Ram a spectacular dance drama encapsulates in two and a half hours the significant scenes of Ram. It unveils the iconic character of Ram-from his birth to his coronation. Seamlessly stitching together dance and music styles-the presentation is an extirpating experience that has gone from strength to strength for over six decades and four generations.  Almost all Prime Ministers and Presidents have witnessed the rich tapestry of the show. Shri Ram is a classic epic for the masses. It presents core values of emotions, devotion, loyalty, and endearing relationships. Having staged for over six decades now, the show improves with every consecutive year; yet upgrading production values as costumes, music, sets and lighting. RAM was the first show to be televised in DD in 1967.
 
Our sponsors to this programme are doyens of City deeply involved and steeped in tradition of country.
 
Vardhman has earlier also brought this show twice for L.S.S in 1998 and then 2000. Sri Pal Oswal readily agreed to sponsor again. Three kudos to him. Other three sponsors are our regular patron Vineet Sood of Centex Fabrics Export Unit and globally recognized organization and redoubtable Sanjeev Pahwa of Ralson (India) limited the world largest Cycle Tyre and Tube manufacturer and Hemant Sood of FINDOC Financial Group.
Addressing the press conference, Hemant Sood of FINDOC Financial Group lauded the efforts being made by LSS in promoting old traditions and culture. He said it was need of the hour to protect our rich traditions and culture. He stressed on the need of adding value to Ludhiana's old and rich culture and traditions. 
Among others, Sanjay Gupta, D K Sindwani (Vardhman), Amrit Nagpal (Vice President- LSS) and Eshan Sood (Centex Fabric) were present.