LPU's Mittal School of Business' MBA program ranked amongst top in India in IIRF Ranking-2023
With an illustrious 43 ranks steep hike; LPU MSoB is now ranked 41st among 2900 private B schools nation-wide.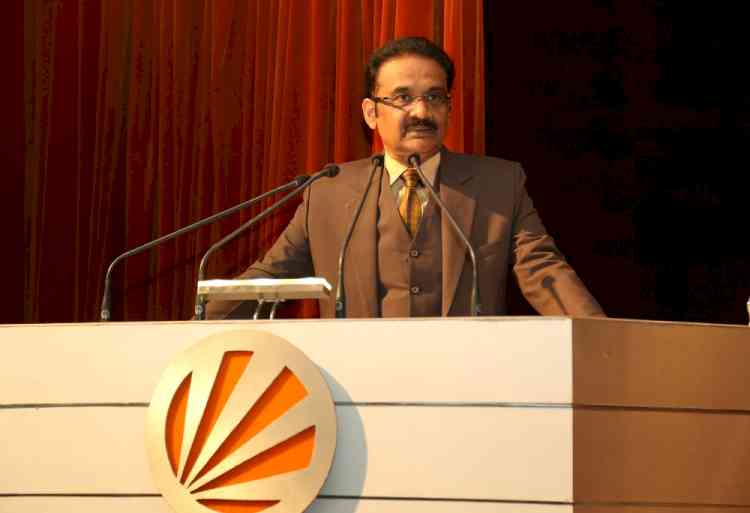 LPU Chancellor Dr Ashok Kumar Mittal congratulating the staff members for the prestigious ranking in India in IIRF Ranking-2023 of LPU's Mittal School of Business.


Jalandhar: Making noteworthy advances, Mittal School of Business at Lovely Professional University (LPU) has registered a record-jump in its Indian Institutional Ranking Framework (IIRF) -2023. It has presently moved up to 41 in 2023, thus making an illustrious 43 ranks steep hike.
In the list of 'top 45 business schools under university programme in India 2023', LPU MSoB gets North Zone Rank 5 and overall 21st; and, in the 'top 50 business schools for research in India 2023; it is overall 48th, and gets North Zone rank 15.
In addition, with an overall 720.27 score on various parameters, LPU MSoB stands among the top 15 private institutions in the region. With this scoring, it has also left behind many of the government institutions including IIM, Bodh Gaya (716.86); IIFM, Bhopal (710.70); FMS, Vadodara (706.10); Indian Maritime University, Chennai (703.70); and many more.
LPU Chancellor Dr Ashok Kumar Mittal congratulated all at LPU for the prestigious ranking. Dr Mittal shared that "with time needed management programs at the school, our MBA students gain an in-depth, panoramic understanding of the practical applications in the industry. As such, they become able to critically evaluate the processes, practices and tools of present-day disruptive trends and technology."
In fact, LPU prepares its students to kick start their career in top MNCs or to be an entrepreneur through a number of most demanded professional management courses.
The IIRF is one of the most authentic ranking frameworks in India, which is highly recommended by students, consultants, professionals and parents. Its website also quotes that the "top 5 MBA colleges in the world are London Business School (UK), Wharton-University of Pennsylvania (USA), Harvard Business School (USA), Stanford University (USA), and INSEAD (France). The USA has the largest number of top-ranking MBA colleges, while Singapore, India, and China are the emerging leaders." With universities like LPU, India is one of the global leaders for offering a wide range of management courses.
With second Rank in the Times Higher Education (THE) World University Rankings- 2022; the best NIRF-2021 ranking; and, accredited with ACBSP of the USA; LPU's Mittal School of Business offers industry relevant MBA programmes to generate creative, effective and dynamic business professionals for the corporate world as per the requirements of the industry. It develops and delivers course curriculum through highly qualified and experienced faculty members. It also inculcates innovation and unconventional efforts to develop entrepreneurial skills in individuals.