LPU to host three-day Punjab State Youth Festival at its Campus from 2nd January 2021
Thousands of talented young men-women of the state have registered for participation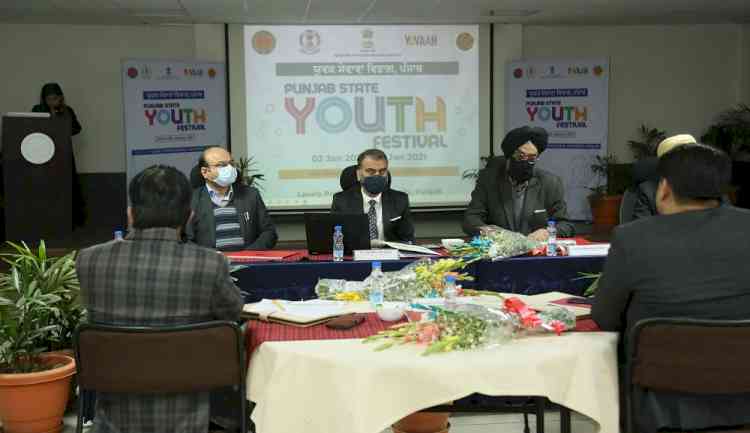 Youth Services Punjab Dr Kamaljeet Singh Sidhu informing about annual mega Punjab State Youth Festival (PSYF)-2021 to be held at LPU.
Jalandhar: The Government of Punjab is organizing annual mega Punjab State Youth Festival (PSYF)-2021 at the campus of LPU from 2nd to 4th January 2021. Under the guidance of State Chief Minister, Capt. Amrender Singh and patronage of the Department of Sports & Youth Services, Punjab, the 'Fest is devised with a vision and mission of promoting state-wide competitions in cultural sphere. It is also to encourage talented youth of Punjab to compete with optimism and enthusiasm. First three Winners of the various competitive events held in individual as well as group items at the state level will be further participating in 'National Youth Festival-2021.'
Thousands of talented young men-women from every corner of Punjab have registered for participation. In this regard, screening of the registered participants from all the districts of Punjab has been finalized, today, by the organizing team comprising Director Youth Services Punjab Dr Kamaljeet Singh Sidhu, Assistant Director Youth Services District Kapurthala Preet Kohli, Dean Division of Student Welfare Dr Sorabh Lakhanpal and Deputy Director Dr Manish Gupta of LPU.
Wishing hearty and rewarding welcome to all participants at the campus, LPU Pro Chancellor Mrs Rashmi Mittal informs that LPU staff members are functioning round the clock to ensure that participants are able to meet their goals during the festival.
For the Fest, a general meeting was also held today at Conference Hall of LPU for streamlining of the broad fest. It was attended by a large number of Deans, Dy Deans, In-charges of various leading universities and institutions of the state including Director Youth Welfare at Panjab University Chandigarh Dr Nirmal Jaura; Additional Director Youth Affairs Dr Sumeer Sharma at IKG Panjab Technical University Kapurthala; Supervisor Cultural Activities Satvir Singh at Punjab Agricultural University, Ludhiana; cultural coordinator of Guru Kashi University Dr Jasmeet Singh, Deputy Dean at CU Ghrauan (Chd) Dr Manish Jangra; In-charge Youth Welfare S Gursewak Lambi and Programme Assistant Danny Sharma at Punjabi University Patiala; Balpreet Singh, Dr Nitin Bhardwaj of DSW at LPU; and many more.  
The three day 'PSY FEST' at LPU would leverage on the understanding, innovative ideas, capabilities that youth of the state exhibits during the various competitions chalked out in 20 areas, to be held at four venues of LPU Campus. In fact, in the present challenging times, youth is vastly connected and integrated through online and offline communication channels. On the same lines, PSYF 2021 is focussed on bringing forth the interest of the state youth towards expression and manifestation of their talents on selected thematic interfaces. /(December 30, 2020)