LPU Student joins England's Heriot-Watt University under International Credit Transfer Programme
Even in COVID 19 Pandemic restrictions, LPU is providing study abroad opportunities to its students, under guidance from experts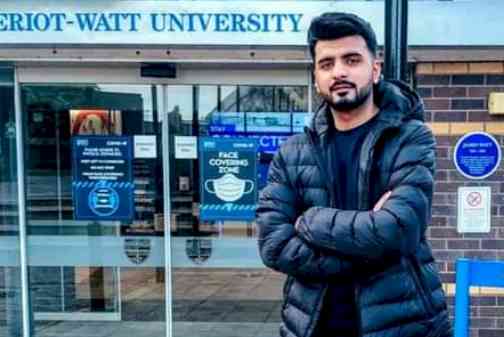 Jalandhar: Another engineering student of Lovely Professional University (LPU), Hancy Arora, has now availed LPU's 'International Credit Transfer Opportunity Programme' to join England's eighth oldest higher education institute- Heriot-Watt University. After having 3 years' at LPU, Hancy will now complete the rest of his programme at United Kingdom's university, and thus receive a final Degree from there only. With LPU's prestigious international partnerships, its students are cherishing their study abroad aspirations through world's top universities.

Emerged as the world's first mechanics' institute in 1821, Heriot-Watt University is the eighth oldest higher education institute in the UK, and is consistently ranked at a high level. It is known for its research performance, student satisfaction, graduate employability, quality of teaching and more. It specialises in engineering, business, science and innovative global education for a future world.

Every year, many of the Indian students aspire to go abroad for higher studies. However, this year they got their dreams on hold due to the current CORONA pandemic situation. The parents, too, are reluctant to send their wards abroad, in such a scenario. However, amidst this all, LPU has brought ample 'Study Abroad Opportunities' through its unique 'Credit Transfer Program', under which a willing student can make a wide choice of his/her preference for the country, university and the program. For this, LPU connects students to its top partner universities across the globe including those of the US, UK, Canada, Australia, Germany, France, Switzerland, New Zealand and more.

Additional Director of LPU's Division of International Affairs, Mr Aman Mittal further informs: "This program has been widely accepted by students and their parents because it removes the concerns borne out of COVID-19. More and more students are opting for this credit transfer option, as they can still realize that their dream of going abroad will certainly be a reality." Mr Mittal adds: "An interesting aspect of credit transfer is that a student actually gets 2 years to gear up, arrange finances and manage good grades. Also we need to consider the cost effectiveness because the degree is started at LPU and a student is saving in dollars by paying only two-year fees of the concerned foreign partner university."

Under this credit transfer opportunity, a student can study part of the program at LPU campus and complete the rest of his/her degree at an LPU's foreign partner university. In such cases, the part of the program is generally two years for under graduate and one year for masters.