LPU School of Architecture and Design participated in PEDA supported workshop on energy conservation
Occasion was unique 'Training on Energy Conservation Building Code-2017' organized at Municipal Corporation Jalandhar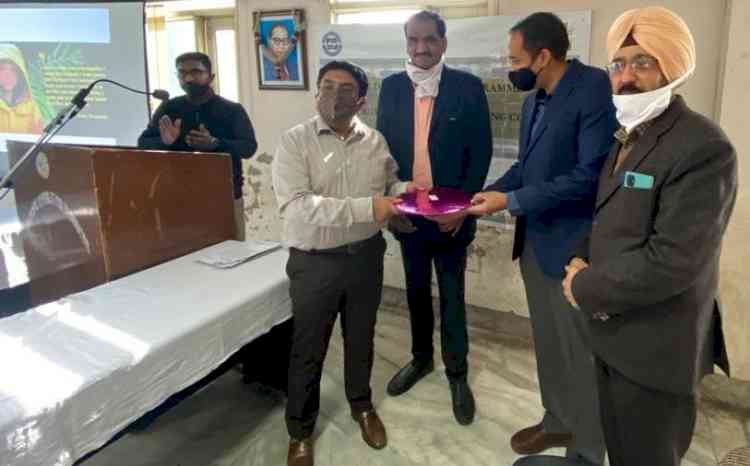 Chief Architect and Dean at LPU Mr Atul Singla present during awareness training on Energy Conservation Building Code at Municipal Corporation.
Jalandhar: With the support of Punjab Energy Development Agency (PEDA), the Bureau of Energy Efficiency (BEE) organized one-day awareness training on 'Energy Conservation Building Code (ECBC) at Municipal Corporation Jalandhar, where the School of Architecture & Design at Lovely Professional University (LPU) also made an important participation. Addressing all of the participants, Chief Architect and Dean at LPU Ar Atul Singla informed that PEDA is doing a great job for professionals engaged in architectural endeavours through such awareness programmes. Member, Board of Governors, PEDA, Shri Sushil Kumar Malhotra informed about the energy efficient buildings & initiatives taken by PEDA in the state of Punjab.
Renowned Trainers at the workshop touched various case studies to explain perfect architectural projects of different scale and typology. Registered architect with Council of Architecture (COA) and BEE Certified Master Trainers of the Energy Conservation Building Code (ECBC) of India, Ar Abu Talha Farooqi and Ar Satinder Maan guided the participants about how the heat transfer can be reduced by "Building Envelope". They exhibited it through certain case studies, where a building is designed in such a manner. They revealed that the building reduced its heat load from100 ft2/Tr to 450 ft2/Tr. The master trainers also showed case studies, where day lighting in a building is increased just by optimizing the design.
Prior to this, the training program commenced with floral welcome of the Chief Guest, Commissioner, MC Jalandhar,Shri Karnesh Sharma (IAS); Special Guest JC,  MC Shri Harcharan Singh (PCS); and, Guest of Honour Municipal Town Planner-MCJ Shri  Parampal singh. The program was attended by many practicing architects and engineers from Municipal Corporation, PWD, Improvement Trust & other stakeholders. The impactful organization was made through Ela Green Buildings & Infrastructure Consultants. Ar. Dinesh Bhagat from IIA Punjab Chapter, Ar. Rajinder Pal Singh, LSAD HoD Prof Ar. Nagendra Narayan and many other participants from across the state were present in the training programme.