LPU ranks 23rd in India in Times Higher Education World University Ranking
Prestigious 'THE World University Rankings-23' has also placed LPU in the 801-1000 Band at the global level, placing LPU in the league of top 25 institutions of India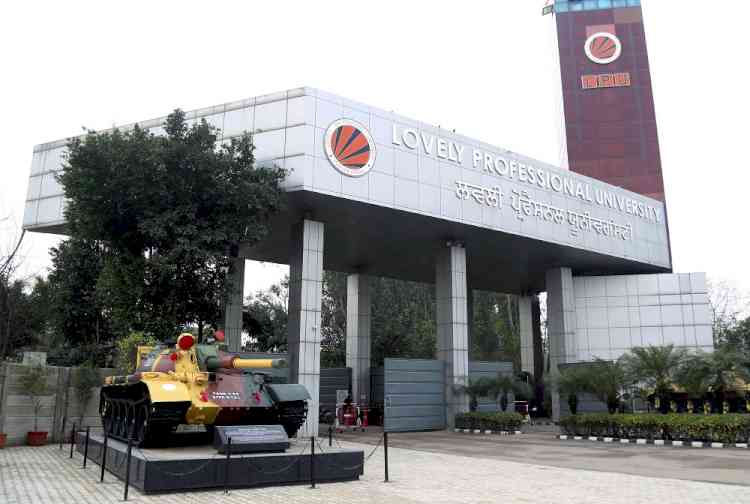 In Punjab, only three institutions made it to the global top 1000 list including IIT Ropar, Thapar Institute, and Lovely Professional University (LPU)
 
Jalandhar, October 12, 2022: Through an innovative approach towards challenging the current status quo, Lovely Professional University (LPU) has been ranked 23rd amongst all Indian universities/institutions in Times Higher Education (THE) World University Ranking
THE World University Rankings-23,' a prestigious globally recognized rating system, has placed LPU in the 801-1000 Band on a global scale. Previously included among the top 36 Indian universities in THE World University Rankings- 2022, this is once again one of the best accolades won by LPU. This time the climb up the ranking ladder has been an escalating one, improving the previous ranking record by 13 spots and getting placed in the top 25 Indian institutions. In comparison to many of the participating universities from across the world, LPU is just 17 years old and is already a part of the global higher education landscape.
'THE World University Rankings' provide the definitive list of the world's best universities, with an emphasis on the research mission. It uses 13 carefully calibrated performance indicators to provide the most comprehensive and balanced comparisons. The overall list is accompanied by 11 subject-specific rankings.
Commenting on the achievement, University Chancellor, Dr Ashok Kumar Mittal said, "We are proud to see LPU shining globally by winning sought-after rankings time and again. Credit goes to all at LPU who always work resolutely with an ability to do things differently and innovatively. Under such a notion, a trans-disciplinary and research-oriented experiential approach is being adopted in every facet of the University."
This year, globally, The University of Oxford, United Kingdom has topped the table and has bagged first place in the rankings. While in India, the Indian Institute of Science, Bangalore has been listed first. LPU has been placed ahead of notable Indian Universities such as the University of Delhi, IISER (Pune, Kolkata and Bhopal), IIT (Bhubaneshwar, Guwahati and Mandi), NIT (Rourkela), and Mumbai University and many more.  In Punjab, only three institutions made it to the global top 1000 list including IIT Ropar, Thapar Institute, and Lovely Professional University (LPU).