LPU celebrates New Year-2021 by lifting Punjab State Youth Festival Overall Trophy
For the neck-to-neck competitions held in a total of 26 items; LPU won 22 positions including 13 First positions, 7 Second and 2 Third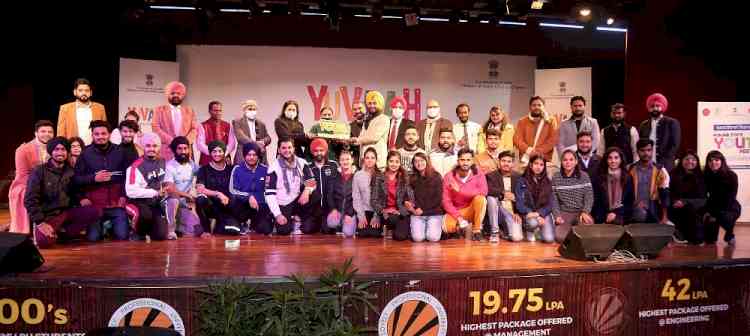 Students from various universities participating in Punjab State Youth Festival at LPU campus.
Jalandhar: Extraordinarily talented students of LPU exhibited their co & extra-curricular skills and celebrated New Year-2021 by lifting Punjab State Youth Festival Overall Trophy. For the neck to neck competitions held in a total of 26 items of music, literary, dance, art, theatrics and other categories; LPU won 22 positions including 13 First positions, 7 Second and 2 Third positions. First three winners of the various competitive events, held in individual as well as group items, will now further participate in National Youth Festival-2021, to be held in New Delhi from 12-17 January 2021. Thousands of talented young men-women from different universities of the state had registered for participation.
The Government of Punjab had organized a three-day annual mega Punjab State Youth Festival (PSYF)-2021 at the campus of host Lovely Professional University (LPU), under the guidance of State Chief Minister, Capt. Amarinder Singh; patronage of the Department of Sports & Youth Services, Punjab; and, the support of Ministry of Youth Affairs and Sports, Government of India. 'Fest' has a vision and mission of promoting state-wide competitions in the cultural sphere. It is also to encourage talented youth of the state and the country to compete with optimism and enthusiasm.
LPU Pro Chancellor Mrs Rashmi Mittal handed over the winners' scintillating trophy to the LPU team, and individual prizes to the other winners from Punjab University Chandigarh, Punjabi University Patiala, Guru Nanak Dev University Amritsar, Punjab Agricultural University Ludhiana, IKG PTU Kapurthala, CU Gharauan and more. Mrs Mittal invoked all participants to always have a competitive zeal in mind for positive outcomes to regularly excel in life.
Dean, Division of Student Welfare at LPU, Dr Sorabh Lakhanpal informed that LPU won first positions in competitions of Contemporary Dance for both Solo & Group; One Act Play; Indian Music Band; Stand Up Comedy; Elocution; Painting;
Classical Instrumental (Non-Percussion); Classical Sitar Vadan; Three Classical Dances-Bharatanatyam, Kathakali & Kathak and Street Play.