Loss of smell and taste is 100 per cent covid positive case: Dr Rajesh Mahajan
For providing best healthcare, 7-member expert panel "Sanjivani Group" already formed of leading city doctors: Dr Bishav Mohan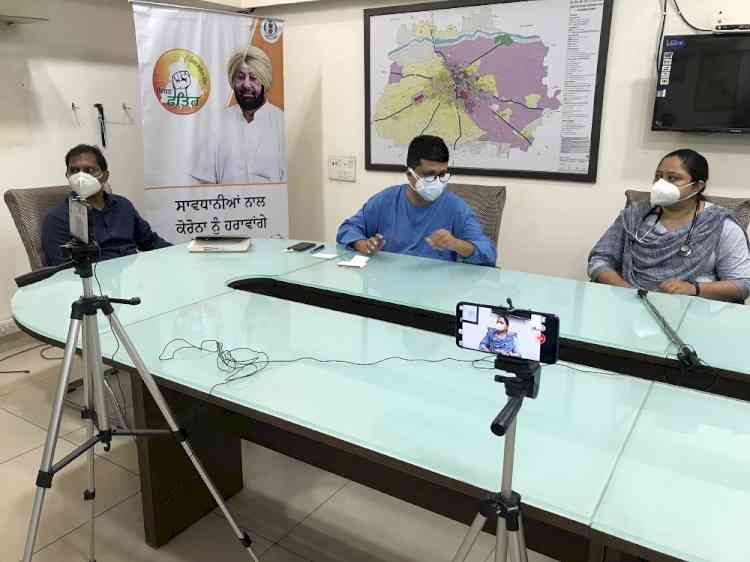 Ludhiana: Dr Rajesh Mahajan, specialist doctor from Dayanand Medical College & Hospital today informed that loss of taste and smell in any person is 100% sign of Covid 19 and without wasting any time, such persons should immediately visit their nearest hospital for treatment. Dr Mahajan said this while replying to a query of a Ludhiana resident related to Covid during the Facebook live session on the official Facebook page of District Public Relations Officer Ludhiana today.

Today's Facebook live session was attended by Additional Deputy Commissioner (Development)-cum-Nodal Officer Covid Mr Sandeep Kumar, Dr Bishav Mohan and Dr Rajesh Mahajan from Dayanand Medical College & Hospital and Dr Amanpreet Kaur Bains from Civil Hospital Ludhiana.

The Ludhiana administration in collaboration with a team of medical experts has already launched an initiative called "Sanjivani" under the Mission Fateh of the Punjab government. The top medical experts for this initiative are Prof Bishav Mohan, Prof Rajesh Mahajan, Dr Sandeep Chhabra, Dr Vipin (DMC Ludhiana), Prof. HS Pannu (Director, Fortis Hospital, Ludhiana), Prof. Mary John (CMC, Ludhiana), Dr Gurpreet Singh (Critical Care Expert, Apollo Hospital, Ludhiana) and Dr Hitender Kaur Sohal (SMO Civil Hospital, Nodal Officer COVID, Ludhiana).

During the Facebook live session, Mr Sandeep Kumar assured the residents that adequate beds are available in the district for the patients. To ease the bed location for the patients, the Ludhiana administration has already launched a weblink ludhiana.nic.in/notice/covid-19-bed-status-in-ludhiana-district/, where residents can check real time status of vacant and filled beds in all hospitals.

The panelists emphasised on the fact that we all are in this together and it is on everyone of us to fight the fear and stigma around COVID. They requested not to fall for false information and fake news and also maintain social distancing and proper wearing of masks.

During the Facebook live session, all the participants also answered several questions of the residents. Dr Bishav Mohan said that this Facebook live session would be a regular affair now and residents can send their questions on the official Facebook page of District Public Relations Officer (DPRO) Ludhiana facebook.com/dproludhianapage/.