LOCKDOWN OPPORTUNITY TO JOIN EDUCATION AND TECHNOLOGY
WEBINAR ON 'LOCKDOWN MEY PADHAI' ORGANIZED BY DEPT. OF HINDI, PU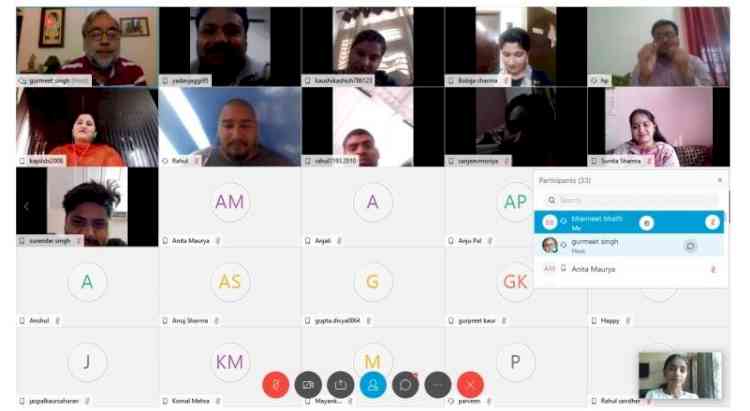 Chandigarh: The Kahi-Ankhai literary forum of the Dept of Hindi, Panjab University today organized an online seminar (webinar) on the topic 'Lockdown mey Padhai'. Dr. Gurmeet Singh, Chairperson, Dept of Hindi, said that, although lockdown as affected a change in our routine but the online platforms have ensured that we can carry on with academic and literary activities. This is the first webinar that we have organized during the lockdown and we thought it would be apt to talk about the avenues for education through online resources. In the coming days we hope to bring more speakers from different locations, who can join us through the online mode.
The speakers for this webinar were Dr. Sunita Sharma, Assistant Professor, Govt College (Diggal), Solan  and Mr. Kewal Kumar, Assistant Professor, Shri Guru Teg Bahadur Khalsa College, Shri Anandpur Sahib. Around 40 participants from different locations joined the Webinar.  Speakers  discussed the various opportunities and challenges in accessing and using the online educational resources. Dr. Sunita spoke about the various online resources which students can use to gain access to a whole repository of educational resources. She also discussed various practices which the students can add to the their routine to make optimum use of online resources. Mr. Kewal discussed the pertinent issue of coming together of education and technology. He traced the journey of Indian education system and explained how the future of education lied in joining hands with technology. This was followed by an interactive session. Faculty, Research Scholars, MA students and old students of the Dept joined the seminar.Dr. Praveen Goyal, senator and faculty from UIET also joined the webinar and interacted with students. 
The Dept will be holding weekly webinars every Friday and hopes to connect the students with speakers from around the world.