LMA organised session on "The Art of Influencing Others" 
Ludhiana Management Association (LMA) organised a session on "The Art of Influencing Others" at Ludhiana.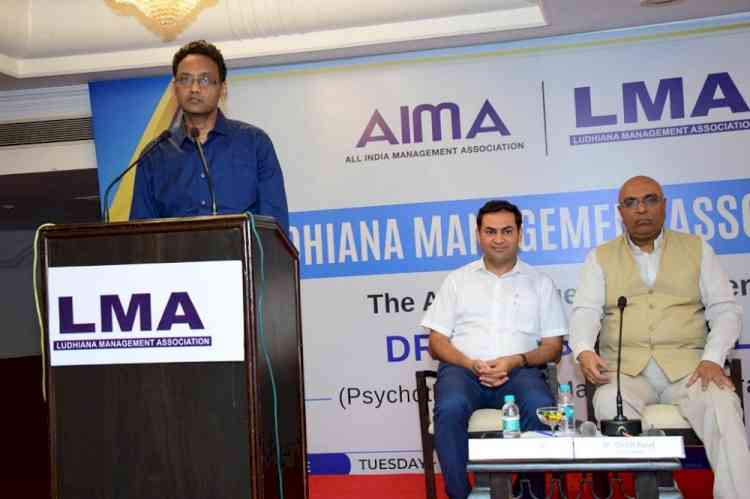 Ludhiana, June 22, 2022: Ludhiana Management Association (LMA) organised a session on "The Art of Influencing Others" here.
The resource person was renowned international award winner Dr.Girish Patel, Psychotherapist & Management trainer from Mumbai. He has been conducting the seminars for the youth, doctors, managers, government & business leaders.  Shobhan Soi, General Secretary, LMA in his welcome address thanked him for addressing the members of Ludhiana Management Association. The session was attended by big industrialists, entrepreneurs and professionals of the region.
Dr. Patel shared that the Influence can be defined as the ability to affect the character, development, or behaviour of someone or something, and it requires developing a strong emotional connection with yourself and others. Those who master the art of influence are often skilled at tapping into the emotions that drive people's actions. Transactional and transformational influence continues to be the two most prevalent ways leaders exert their power over others today. Before you can master the art of influence yourself, you need to understand both of them said Dr. Patel
Dr. Patel further explained how you can increase your influence among the people; he advised that the simple act of appreciating your team members, whether through a few words of praise at the end of a tough week or recognizing their critical role in a recent project can make a big difference in their motivation. As a first-time manager, one of the best questions to ask your people is, "How do you like to receive praise or recognition?" The answers you receive will help you learn how to give your team members praise and recognition most said Dr. Patel
It was a fruitful session for one and all that concluded with Presidential remarks by Neeraj Jain, President of Ludhiana Management Association and a vote of thanks by Harpreet K. Kang, Sr. Vice President of LMA.