Little chefs of Innocent Hearts showcased their artistic talent in "sandwich decoration"
Students made sandwiches of many different shapes and designs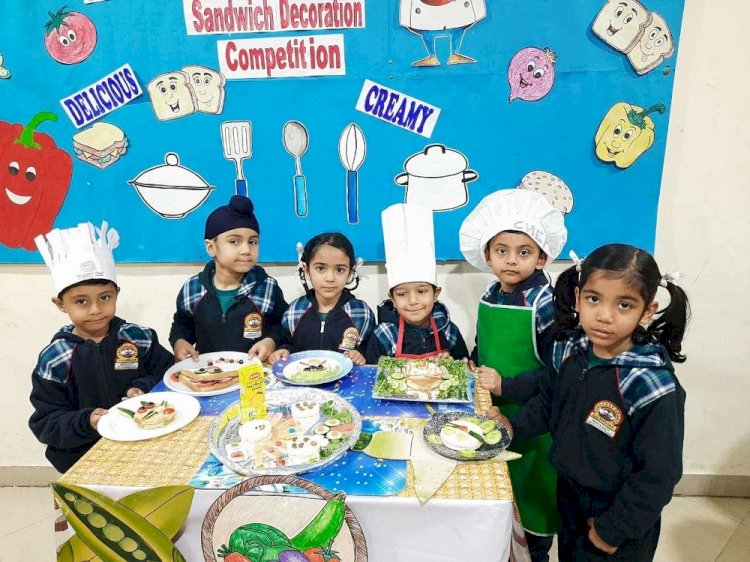 Jalandhar: The Pre Primary School INNOKIDS of Innocent Hearts School conducted a "Sandwich Decoration" competition in all four schools (GMT, Loharan, CJR and RW). The tiny tots of KG I participated enthusiastically with great delight. The students made sandwiches of many different shapes and designs like Teddy Bear, Butterfly, Fish, Train, Tree, Hut and Bag in many beautiful ways.
In this competition, first position holders were as under:
GMT –
KG I A - Manpreet Kaur, Kaavya Behal
KG I B – Aarav , Shabad 
KGI C – Deevan Nagpal
KG I D – Anhita 
Loharan
KG I A - Rihanshi
KG I B – Harsirat  Kaur
KG I C – Yuven Garg and Mayank Batra
KG I D – Daivik Chopra
CJR
KG I A Harsahib Singh, Reet Kaur and Hargun Kaur
KG I B Vaibhav and Surbhi
RWIS
KG I   Harleen and Harman Kaur
Incharge Innokids Ms. Gurmeet Kaur (GMT) Ms. Alka Arora (Loharan), Ms. Sonali(CJR) and Ms. Meenakshi Sharma (Royal World) said that these activities help to explore and unleash the latent talents of the children. It also helps their creative skills to develop at this tender age. The Incharges praised the efforts of the students and the concentration and effort they applied.