Launch ceremony of 10th edition of Mach-Auto Expo 2021
This event is being the perfect destination to meet all technology needs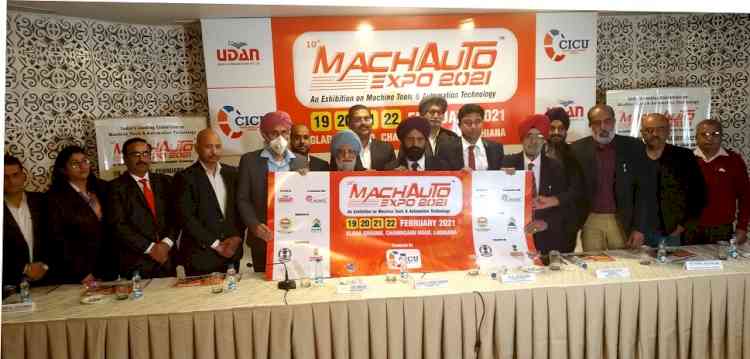 Ludhiana: The 10th Edition of Mach Auto Expo 2021, an exclusive and most trust worthy Premier Exhibition about Machine Tools and Automation Technology is being organized by 'Udan Media and Communications Pvt. Ltd.' powered by CICU, in association with ALMTI and supported by APMA. It is all set to commence at Glada Ground, Chandigarh Road, Ludhiana from 19th to 22nd February 2021.
 
Mach-Auto Expo is India's Leading Exhibition on Machine Tools & Automation Technology, and aims to promote the Indian Industry on international standard by bringing the manufacturers and buyers on the same platform and share information & knowledge to understand the market dynamics. It is a launch pad for new ideas, products and services and conducive environment for joint ventures & collaborations and it is open market place to source idea solution in the Machine Tools industry.
 
Upkar Singh Ahuja, the President of CICU and Pankaj Sharma, Gen. Secretary of CICU jointly said, "This Expo aims to promote the Indian Industry on international standard by bringing all on the same platform sharing world class technology at the reasonable prices. It is the perfect forum to visualize quality through competitiveness and ensure to achieve the slogan "Make In India" & "Make In Ludhiana, Punjab" and also best platform for the MSMEs units across the country to judge about the technologies & innovation which is occurring throughout the world under one roof."
 
The President of ALMTI, Jagtar Singh said, "As everyone is aware about this industry as Machine Tool Manufacturing Market in India is growing rapidly at Fantastic Rates. To mark this exhibition, this year "Mach-Auto Expo" is about to set the industry to a new pace and standards and will also be the top notch destination for industrialists who are looking for automation at reasonable prices with high end quality and various solutions related to automation machinery."
 
Gurpragat Singh Kahlon, the President of APMA said, "Mach-Auto Expo 2021 is being categorized as Machine Tools and Automation technologies related Exhibition. Previous nine Events were recorded as Grand Mega success and this Expo is all set to create new milestones in the history of Punjab and particularly for Ludhiana being the Industrial hub of Punjab."
 
GS Dhillon, Managing Director, Udan Media & Communications Pvt. Ltd. said, "We have envisioned with a concept to bring Ludhiana on an International Industrial map of the Globe and succeeded in achieving their objective. In this exhibition around 500+ Exhibitors across the country and International companies are participating enthusiastically. There are around 10,000+ products and services and 1200+ brands will be showcased.  Over 850+ running machinery will be on display. A dry run on World class technologies will be given by prominent renowned companies. 
 
Stage is set to host a confluence of exciting business opportunities, world-class technologies and enthusiastic participants across the globe, to converge on a single platform. The four day Exhibition will irrefutably be a gateway to the world of opportunities.  Let's get gear for the growth!"  
 
This Event is being the perfect destination to meet all your technology needs.  The focus of this expo is to showcase latest world class technologies and advancements with an emphasis on Machine Tools, Engineering Machinery, Automation technology, CNC Machines & Systems, SPMs, CNC Plasma Laser Cutting Machines, Cutting & Welding Machines, Robotics and latest versions of conventional engineering machinery and tools.  This event is designed to exhibit the latest world class technology to match the global trends in the market and achieve the high productivity with reasonable automations.
 
In the near future, the Indian market is very optimistic about the development of the Machine and Automation sectors. i.e we see no threats to the machine industry in the coming years.