Last date of admission to LPU Distance Education Programmes is Feb 28
Thousands of students from various locations of Punjab have already taken admission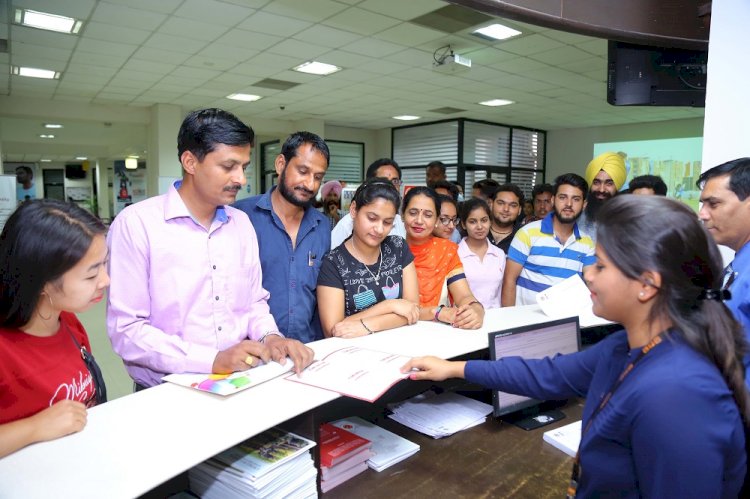 Heavy rush at LPU for taking admission in Distance Education.
Jalandhar: Last date of Admission to various Distance Education programmes offered by Lovely Professional University is 28th February 2020. Thousands of students from various locations of Punjab have already taken admission in LPU's 20+ Distance Education Programmes, and hundreds are visiting on a daily basis for getting their admissions processed. 
Believing strongly that economic condition should not stop higher education aspirants in getting access to quality education; LPU has been offering Distance Education programmes at very affordable fee structure since 2007. The programmes have been getting recognition from UGC and the concerned regulatory bodies regularly from last 12 years.
Presently LPU is offering MBA and BBA Programmes in Management discipline; MCA. M.Sc. IT, PGDCA, BCA, B.Sc. IT and DCA Programmes in Computer Applications and Informational Technology discipline; M.Com and B.com in Commerce Discipline; MLIS, BLIS and DLIS in Library and Information Sciences Discipline; and B.A. and M.A. in Arts Discipline. MBA Programme has emerged as one of the most sought after programme owing to the Promotional avenues and Specializations like Marketing, Finance, Human Resource Management, Information Technology, Operations Management, Retail Management and International Business, it offers to professionals. M.A. programmes in Education, Economics, Hindi, English, History, Mathematics, Political Science and Sociology are also attracting many of the Government and Private sector employees who wish to upgrade their educational qualifications. 
Powered by multiple award winning Online Learning Management System 'LPU e-Connect' and interactive Mobile App 'LPU Touch' with provision of Personal Contact Programmes at University Campus, these programmes are meant to bridge the distance in the realm of Higher Education. For further details & clarifications regarding admissions, an aspiring student can visit lpude.in, make a call on toll free number 180030011800, or forward an email at [email protected]