Languages have no religion: Dr Irshad Kamil
Hindi Mah Utsav - month long celebrations of Hindi Divas conclude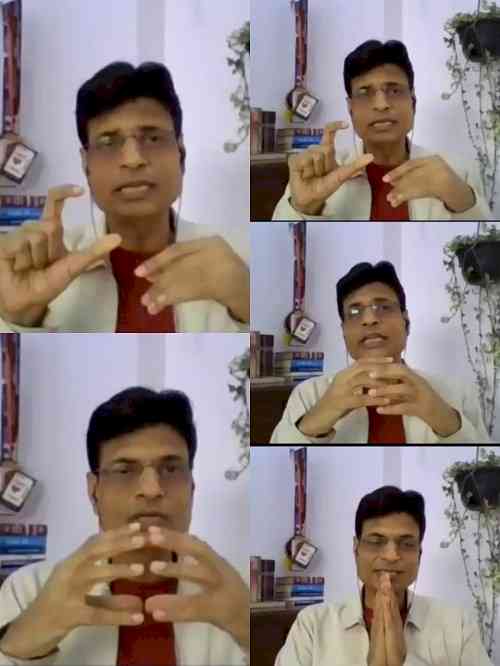 Chandigarh:  "To be able to bring Hindi, Punjabi and Urdu together at Hindi Diwas, is perhaps the biggest achievement" said Dr. Irshad Kamil congratulating the Dept of Hindi for its month long celebrations of Hindi Diwas which concluded today with a webinar on 'Hindi –Urdu- Punjabi Ki sanjhi Virasat' . Department of Hindi has been running a series of events including webinars, poetry recitation and poetry competitions during the month long celebrations. 
Gracing the occasion as the chief guest Dr. Irshad Kamil, famous lyricist and alumni of Panjab University, spoke about the common legacy of languages. Giving various analogies, Kamil stressed upon the fact that just as countries and continents sprang from the same common piece of land, similarly languages stem from a common seed. He also said that it was unfortunate that languages have begun to be associated with religion and it is important today that we understand and respect the common legacy of all languages. Dr. Gurmeet Singh, chairperson, Dept of Hindi, said that "The celebrations began on 14th August with famous Sociologist and poet Prof. Badrinarayan as the key speaker. Today's event is a tribute to the common legacy of Hindi, Punjabi and Urdu. Panjab has borne the pain of partition and poets from Hindi, Urdu and Punjabi have written about it " He also added that Bollywood songs have been one of the  common threads amongst Hindi Lovers across the globe and today we have Irshad Kamil, famous lyricist and our alumni as our chief guest today." The month long celebrations saw speakers from different countries and states including Prof. Suchismita Sen from America, Ekatrina Kostina from Russia, Ridhma Lanskara from Sri Lanka, Prof Vijay Lakshmi from Manipur, Prof. Ram Prakash from Tirupati, Prof. Shashidharan from Kerela, Dr. Ganga Sahay Meena from JNU, Delhi and Shri Vinod Sandlesh from Central translation Bureau.
The Department of Hindi also ran a Poetry Writing Competition 'Hindi Hain Hum' which saw about 115 participants from across the country. The prize winners were awarded cash prizes at the closing event. The prize winners of poetry competition were Abhishek Pandey (Kolkata University), first prize for his poem 'Hindi Ke Ho Rahe Solah Shringar' ; second prize Anjali (Panjab University) for her poem 'Hindi Sarita' and third prize to Sandeep Tripathi (Allahabad University) for his poem 'Gyan Rashi Ki Chali hawa' . They were awarded Rs 2000, Rs 1500 and Rs 1000.