KMV's the happiness program receiving huge response from the students
Principal richly stressed on the need of counseling, guidance and stress management in the 21st century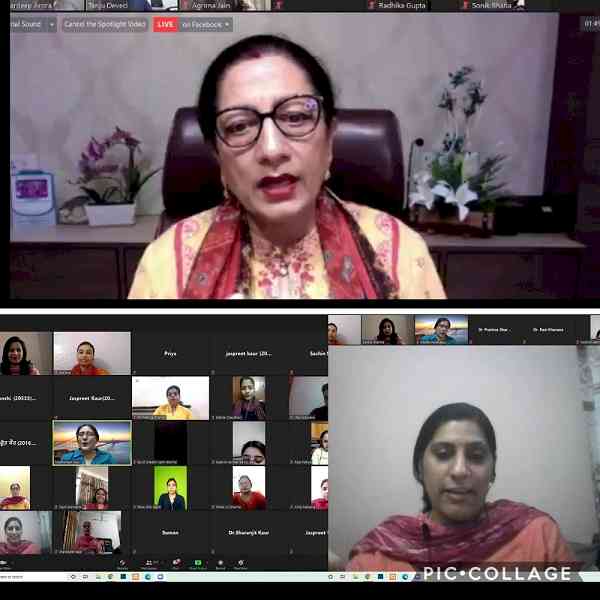 Jalandhar: Kanya Maha Vidyalaya always keep on organizing various activities to provide a holistic growth to the students in order to make them a well rounded individuals. Keeping with the trend, The Happiness Workshop was organized by the Department of Student Welfare in continuance with 'The Happiness Program- A Key to Inner Sunshine' for the students. This is the first time in the region that Happiness Program has been organized for the youngsters to improve their happiness and well-being. It's an 15-week regular program organized once a week which mainly focuses on how to improve self-confidence and enable students to deal more efficiently with negativity and passive thoughts, that results in improving their overall personality. Under this program, the session on the topic of  Genesis & Significance of Happiness was organized for the students of 10+1 and 10+2 (Arts, Commerce and Science). The eminent speaker for this program was Dr. Neha Sharma, Assistant Professor, Human Development & Family Relations, Govt. Home Science College, Chandigarh. 

Principal Prof. Dr. Atima Sharma Dwivedi inaugurated the session with her motivational words for the students. She averred that the importance of happiness is in the curriculum of KMV, a spring board of brilliant career. She emphasized on the fact that KMV has always aimed for overall growth of the students by working on their holistic development in various spheres. She further maintained that this initiative of KMV has become very popular among the students as they are participating in this program in huge numbers. During the sessions, students also asks their queries from the resource person so that they may be able to get proper guidance & counseling regarding different dimensions of their lives. 

Principal Prof Dr Atima Sharma Dwivedi richly stressed on the need of counseling, guidance and stress management in the 21st century. She lauded the efforts of Mrs Veena Deepak, Co-ordinator, KMV Collegiate Sr Sec School, Dr Madhumeet, Dean, Department of Student Welfare & Mrs AnandPrabha for organizing this program very successfully.