KMV's International Series running in full swing
Dr. Robert Urban, Professor and Head of the Department, Personality and Health Psychology, Eotvos Lorand university, Budapest, Hungary Delivers the Lecture under Psychology Chapter of International Series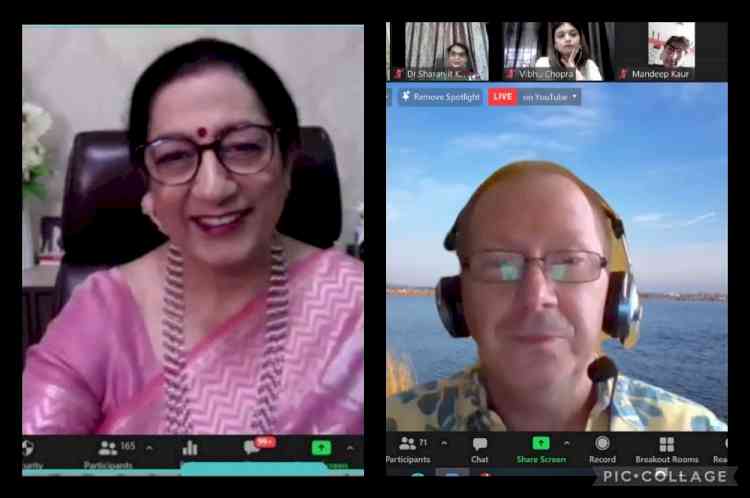 Jalandhar: Kanya Maha Vidyalaya has taken a very superlative initiative of organising an International Series where the eminent personalities from around the world concerning various diverse fields are invited to deliver a lecture. The P.G. Department of Psychology conducted a session of International Series in which Dr. Robert Urban, Professor and Head of the Department, Personality and Health Psychology, Eotvos Lorand university, Budapest, Hungary was invited as the guest speaker. 
The topic of Dr Urban's lecture was What do Health Psychologists do? Dr Urban commenced his lecture by explaining about the field of Health Psychology. He enlightened the students about how behaviour influences health and how as health psychologists we can help people to cope up and recover from illness. He elucidated the students on how mental disorders influence the occurrence, treatment and outcome of various health conditions. He also briefed the students about the types of other fields that are related to Health Psychology. The talk was followed by an interactive session with the students where the various queries of the students were satisfactorily answered by the speaker. It is pertinent to mention that PG Department of Psychology has been organising various international programs from time to time in order to provide international exposure to the students. 
Principal Prof. (Dr.) Atima Sharma Dwivedi lauded the efforts of P.G. Department of Psychology for organising such an interactive live talk with renowned academician of international repute. She expressed that students as well as faculty have availed this wonderful opportunity to interact with renowned personalities which otherwise could have never been possible.