KMV releases KMV Newsline Special Edition:2020 Transforming Challenges into Strengths
Compilation of philanthropic and humanitarian acts carried out during lockdown period by KMV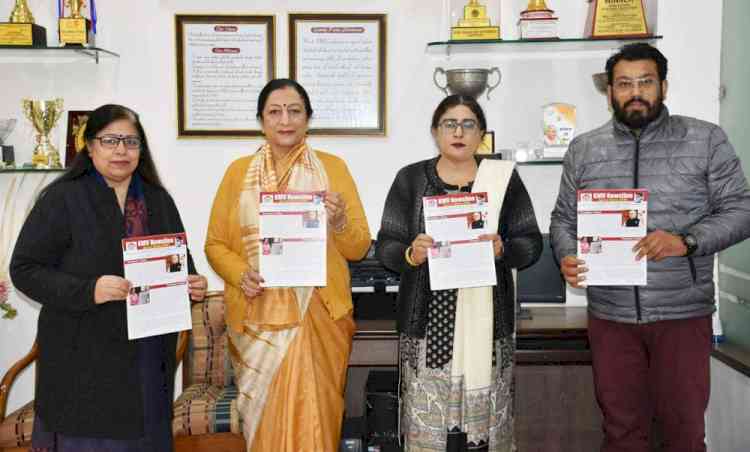 Jalandhar: Kanya Maha Vidyalaya released KMV Newsline Special Edition:2020 Transforming Challenges into Strengths dedicated to Corona Warriors and all Humanitarians who stood to contribute during the COVID-19 pandemic. The Newsline was released by Principal Prof. Dr. Atima Sharma Dwivedi along with the editorial team of Newsline. This KMV Newsline encompasses all the activities that were organised by KMV during the lockdown period. Activities ranging from academic engagement of the students to mass awareness campaign through  webinar services has been reported in the Newsline in a detailed manner. The Newsline also highlights the philanthropic activities carried out by KMV in order to contribute to the society during the pandemic period such as distributing food to the needy ones and also distribution of 40,000 masks free of cost. The Newsline also enlists the various national acclaim and awards for corona warriors of KMV that has been bestowed upon Principal KMV & other KMVites by Government of India & various other international organisations. 
Principal Prof Dr Atima Sharma Dwivedi averred that this thoughtful initiative speaks volumes about the innovative as well as humanitarian endeavours undertaken by KMV during the testing times of COVID-19 pandemic, which are in tune with the glorious heritage of this autonomous institution. KMV's commendable odyssey has witnessed a momentous landmark during the lockdown period which is apparent from the numerous intellectual, social and philanthropic pursuits of KMV. She further maintained that the use of technology and shared consciousness kept the whole community of KMV constructively connected. 
Principal Prof. Dr. Atima Sharma Dwivedi lauded the efforts of members of editorial board of KMV Newsline Dr Madhumeet, Mrs. Vanilla & Mr Sehajpal Singh for this initiative.