KMV Principal Prof Dr. Atima Sharma Dwivedi bestowed with paryavaran ratna award
The college has organised various environmental conservation activities for the students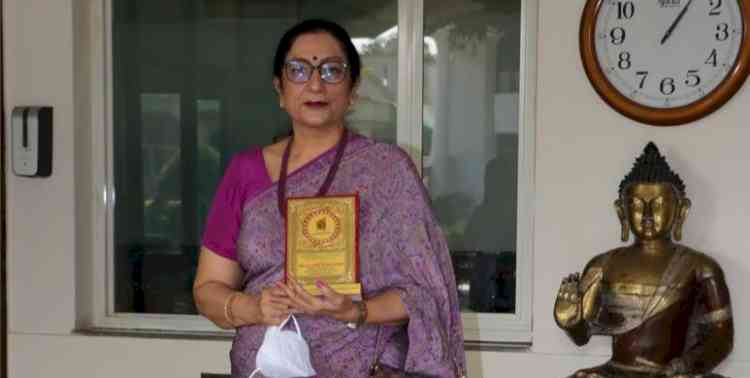 Jalandhar: Kanya Maha Vidyalaya Principal Prof Dr Atima Sharma Dwivedi has been honoured with Paryavaran Ratna Award by Indian Centre for Wildlife and Environmental Studies in South Asia Region, Jaipur for guidance and encouragement of students. She also been bestowed with Paryavaran Dronacharya Award and has also been honoured with Environmental Principal of the Year 2019-20 by ICWESSAR, Jaipur. It is worth mentioning here that under the able guidance of Principal Prof Dr Atima Sharma Dwivedi, KMV has organised various environmental conservation activities for the students so that they can be made aware about the need of sustainable development & ecosystem preservation. 

Recently, KMV conducted National level 25th Paryavaran Ratna exam by Indian Centre for Wildlife and Environmental Studies in South Asia region, Jaipur in which 300 collegiate students from all the streams participated with full zeal & enthusiasm. It is worth a mention here that Prof. Atima Sharma Dwivedi is an internationally acclaimed personality for her contribution to higher education, leadership and women empowerment. She has been richly awarded and honoured at various national & international platforms like Best Research Content Award by Harvard University, USA, Rajiv Gandhi Education Excellence Award during a National Seminar held at New Delhi, "Indo-Nepal Shiromani Award" for outstanding Achievements in the field of Education by Nepal, Achiever of the Millennium Award presented during International Achievers Conference held at Bangkok, Thailand etc.  Various programmes like Management & Leadership in Education Program at Harvard Graduate School of Education, USA and other programs like Advancement Leadership Program at Harvard University, USA, Project titled "Including Ourselves in the Change Equation: Personal Learning for Organisational Growth", completed with Harvard University, USA have played a pivotal role in making Prof Atima contribute substantially to the field of higher education. 

Principal Prof Dr Atima Sharma Dwivedi averred that it is very imperative that the younger generation should be made aware about their responsibilities towards the environment conservation and we at KMV have always time to time organised various activities to promote the cause of environment conservation so that we should be able to make our environment more green and clean.