KMV organizes webinar on science of covid-19 and vaccines
Explained under DBT star college scheme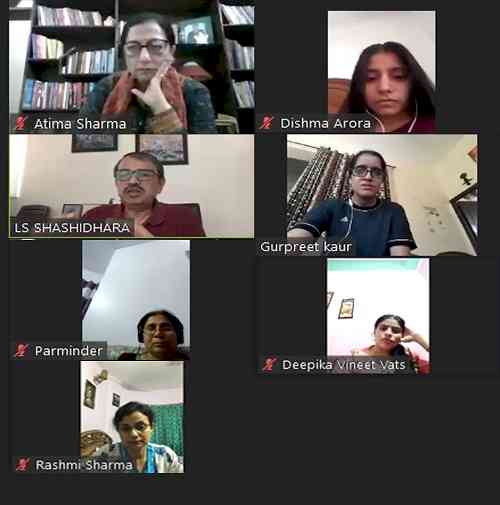 Jalandhar: Kanya Maha Vidyalaya, Jalandhar organized a webinar on "Science of COVID-19 and Vaccines explained" under DBT Star College Scheme. 
The webinar was addressed by Prof. (Dr.) L. S. Shashidhara, a renowned biologist, Dean Research, Ashoka University, New Delhi. The webinar was attended by more than 100 participants. Starting from the nomenclature of COVID-19, Prof. Shashidhara explained the detailed structure of novel corona virus, its origin and its spread in human beings. He added that in bats corona virus is ineffective, but while in human beings it shows adverse effects. Erudite speaker also threw light on methods and modes of transmission of novel corona virus in human beings and also laid stress on its prevention. He also emphasized on the role of personal hygiene and social distancing in its prevention. Elaborating the role of personal hygiene, he explained how soap kills the virus by breaking its cell wall and thus making it ineffective. When asked about "herd immunity" he explained that it is effective in countries with less population but in India, due to large population, it is not that effective. He shared that research in many countries is under way to develop an effective vaccine against this virus, which may take some time to come to the market. Question and answer session was also conducted in which the participants asked their queries from the resource person to which Dr Shashidhara replied very eloquently & satisfied the curiosity of the participants. 
Principal Prof. (Dr.) Atima Sharma Dwivedi averred that such type of webinar on this topic was very pertinent because of pandemic involving the spread of disease by COVID-19 by novel corona virus SARS-CoV2. She further maintained that it is very important that we should all be aware about the correct information regarding this virus & should know its causes, preventions & possible treatments etc. Madam Principal lauded the efforts of organizing committee for organizing such an informative webinar.