KMV organizes webinar on prominent aspects of Indian culture in sanskrit granths 
Held under webinar series on culture and literature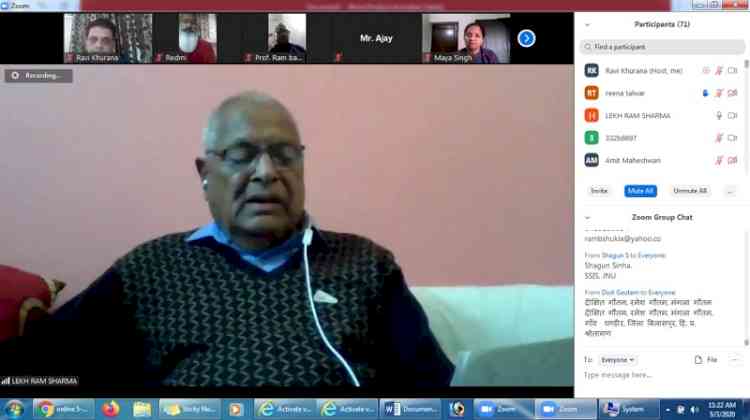 Jalandhar: Kanya Maha Vidyalaya organized a webinar on "Prominent Aspects of Indian Culture in Sanskrit Granths" under the webinar series on Culture & Literature. The webinar was organized by the Department of Sanskrit & Vedic Research Centre. 
The webinar was addressed by Prof. Lekhram Sharma, Former Head, Department of Sanskrit, Guru Nanak Dev University, Amritsar. The webinar was attended by participants including teachers & students from all over India. During the webinar, Prof. Lekhram stated that whole humanity should learn the values of life from the ancient Indian scriptures in these testing times. He also explained that the wisdom of all the ages has been included in these scriptures & the language of Sanskrit is one medium through which one can understand these concepts. In our culture, the elements of religion are considered to be the values of life. In order to maintain a proper balance all the religions, castes & communities, it is essential that man's life should have three important elements in it that are mentioned in our scriptures. Throwing more light on the importance of nature & environment, Prof. Sharma stated that it is clearly mentioned in our ancient scriptures that men should protect and conserve the unlimited treasures of nature & should contribute to the constructive development of it. The basis of life security & its development is based upon the beautiful & traditional relationship between forests & trees, flower & thorn, color & darkness, forest & flora, nature & mountains etc. Question and answer session was also conducted in which the participants asked their queries from the resource person to which Prof. Lekhram Sharma replied very eloquently & satisfied the curiosity of the participants. 
Principal Prof. (Dr.) Atima Sharma Dwivedi averred that such type of webinar on this topic was very pertinent because of pandemic involving the spread of disease by COVID-19. She further maintained that it is very important that we should all be aware especially the younger generation about the ancient wisdom of various aspects of this universe inscribed in our ancient scriptures & texts so that the society should take noble directions from them in these difficult times. Madam Principal lauded the efforts of Dr Neeraj Sharma, Head, Department of Sanskrit for organizing such an informative webinar.