KMV organizes webinar on education-the road ahead
Principal Prof (Dr.) Atima Sharma Dwivedi was the resource person for the webinar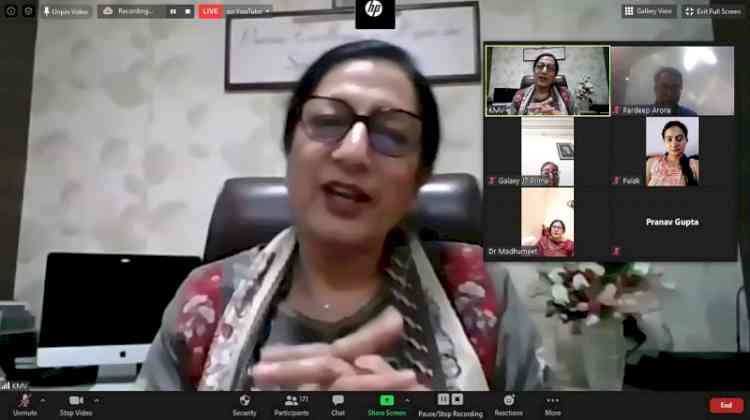 Jalandhar: Kanya Maha Vidyalaya organized a webinar onEducation- The Road Ahead. The resource person for the Webinar was  Principal Prof. (Dr.) Atima Sharma Dwivedi. The webinar was organized in order to address the various aspects related to the current education scenario & its future. The webinar was to the benefit of the students & academicians from all across India.  
During the webinar, Principal Prof. (Dr.) Atima Sharma Dwivedi shared a PowerPoint presentation & stressed on the road ahead in the field of education & also inspired all the students to turn the challenges into strengths & opportunities. She also pointed out the need for maximum leveraging of technology & online system for education. The concept of Blended Learning was introduced by Madam Principal during the webinar in which she elaborately explained that blended learning is an approach to teaching-learning that effectively combines classroom teaching with online instructions strategies. This effective combination makes the student more innovative & creative in their approach. She also elaborated on the fact that at KMV we aspire for the holistic development of the students & for that purpose various online foundation programs, value added programs & personality development programs are being offered to the students online. She assured that KMV has various student centric learning facilities such as Curriculum designing, Assessment reforms, Online information & counseling & Online admission facility etc. She also stressed on the fact that being an Autonomous institution, KMV has lot of advantages over other institutes as we can be flexible in curriculum designing, in introducing academic and examination reforms & to introduce more student centric activities. The webinar session was very much interactive as the question and answer session was also held in which the students asked their queries in which a student asked as to what are the various courses that one can pursue in KMV after completing their post-graduation from the college as the student said that they don't want to leave the college. Madam Principal replied by listing various PG Diplomas in various fields that students can opt after their Master's degree, and moreover there are various skill development programs also that are available in KMV for the skill development of the students which the students can join at any point of time after their post graduation. 
In her concluding remarks, Prof. (Dr.) Atima Sharma Dwivedi averred that KMV is Future Ready & we as teachers & mentors should be able to reassure all the students to stay positive & strong in this testing time. Moreover, the young generation should also need to update itself technically in this era of COVID-19. Dr Madhumeet, Head, PG Department of English was the moderator for this webinar. Madam Principal lauded the efforts of Dr Pardeep & Mr Shashi for organizing the webinar very efficiently.