KMV organizes series of educational trips
These trips held under DBT Star College Scheme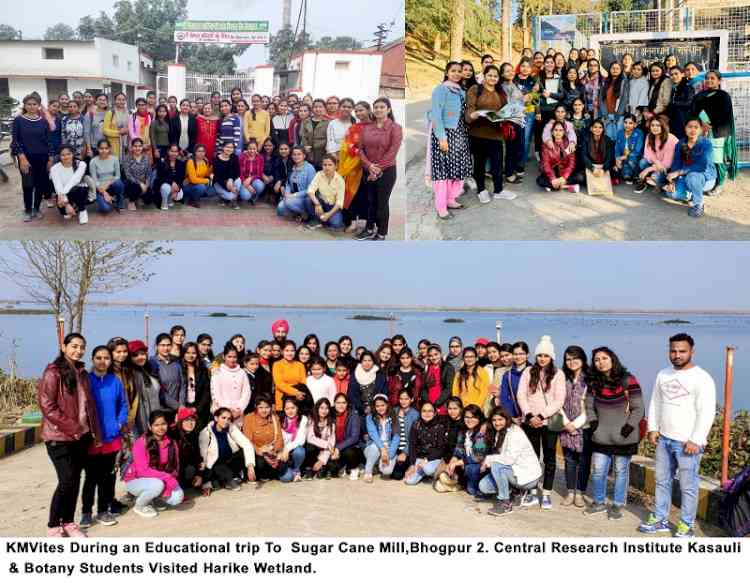 Jalandhar: Keeping with the trend,  PG Department of Chemistry of Kanya Maha Vidyalaya (KMV) organized an industrial visit to Sugarcane Mill, Bhogpur, Jalandhar under the DBT Star College Status. 
The main objective behind the visit was to help the students gain first hand information regarding the production of sugar from sugarcane. The visit was aimed at exposing the students to working environment of a sugarcane mill. More than 50 students from under graduate and post graduate classes accompanied by three teachers were part of this educational trip. During the visit, students witnessed the whole process right from weighing, cleaning, cutting and crushing of sugarcane. Students gained a lot of knowledge and learnt that there is no wastage in the industry & even by-products are optimally utilised. General Manager of sugar mill elaborated the usage of various by-products like bagasses & molasses in the other industries. Botany department of KMV also organized two educational trips for the students. During the first trip, the students of B.Sc. Medical (Sem IV) and M.Sc. Botany (Sem II) visited Harike Wetland. A total of 47 students visited the site with four faculty members and a lab attendant. During the trip, the students learned about several terrestrial and aquatic plant species and also collected plant specimens for their practical work. During their second two day educational trip, the students of B.Sc. Medical visited Central Research Institute, Kasauli and Rose Festival, Chandigarh. During their visit to Central Research Institute, the students learned about the preparation of different vaccines. They further collected plant samples for the Herbarium and explored the flora of Kasauli valley. Next day the students visited Rose Festival which was held in Rose Garden, Sector 16, Chandigarh in which the students learned about the different varieties of roses grown in Rose Garden along with different categories of succulents, bonsai and other flower groups. 
Principal Prof.(Dr.) Atima Sharma Dwivedi averred that such industrial visits of the students are a regular feature in KMV as it gives exposure to the students that will go a long way in developing the scientific and research temper in them which will be a guiding force for their all future endeavours. She further maintained that such type of educational trips provides an opportunity to the students to develop a close bond with each other and to work harmoniously with each other.