KMV organises workshop on doll makeup for college and collegiate students
The workshop witnessed the participation of students from all streams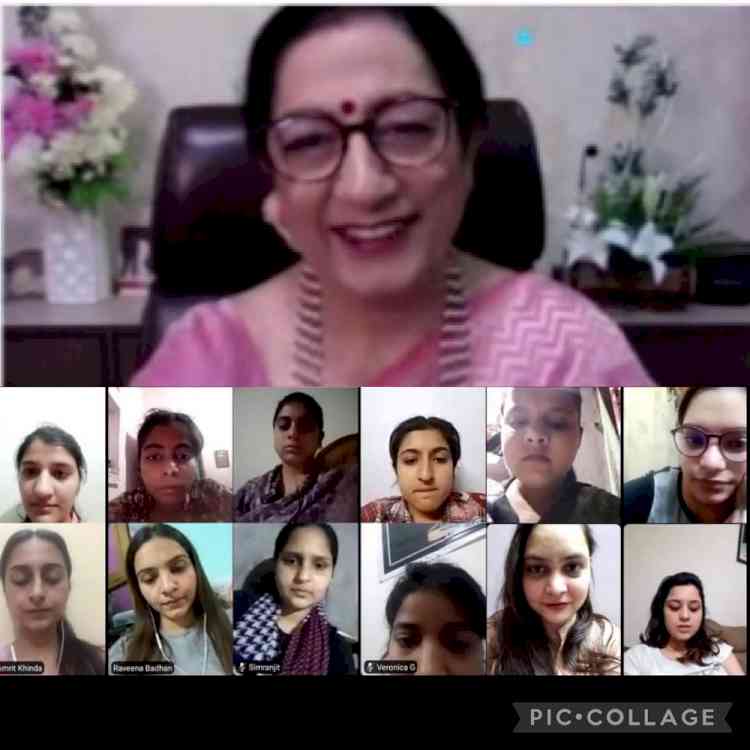 Jalandhar: Kanya Maha Vidyalaya organised a one day workshop on Doll Make-up for college & collegiate students. The workshop was organised by P.G. Department of Cosmetology. The resource person for the workshop was Ms. Arsh Kaur. 
The workshop witnessed the participation of students from all streams with full zeal and enthusiasm. During the workshop, Ms Arsh highlighted the various techniques of doll makeup and also shed light on different techniques used in makeup for different skin textures. After the workshop, an interactive session was also conducted in which students asked various questions to the resource person to which the resource person responded very clearly and satisfied the curiosity of the students. It is important to mention that the department of Cosmetology is build up with fully specialised beauty studio called Sublime- The Art Studio  that is providing training to the students for the dermatological treatments & many more state of the art new equipments such  as high frequency brushing unit, skin analysis machine, body massager & microdermabrasion galvanic machine etc. are also available in the department to provide the proper exposure to the students related to skin, hair and body care. Currently, Cosmetology department is running various courses such as MA Cosmetology, B.Voc.(Beauty & Wellness), PG Diploma in Cosmetology, Diploma in Cosmetology (after 10+2) & Cosmetology as a subject in BA course. 
Principal Prof. (Dr.)Atima Sharma Dwivedi averred that this type of initiative motivates the students to learn the practical skills of their subject so that they will be able to bag suitable jobs in this competitive world. Moreover, KMV always provide the best infrastructure & facilities to its students so that the students can avail the best facilities for their overall personality development. She further maintained that the students of cosmetology department are very well placed in the industry due to the practical exposure provided to them in the college.