KMV joins nation's fight against corona
KMVites stitch 1000 masks to distribute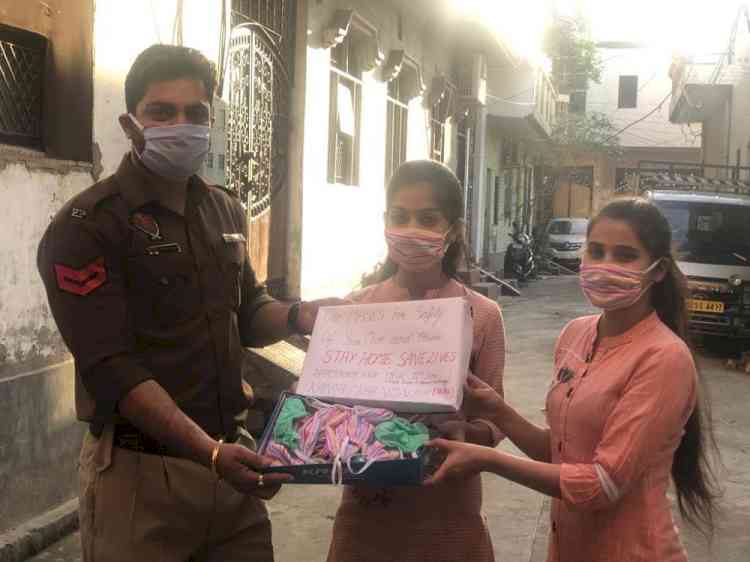 Jalandhar: Nowadays when the whole world is reeling under the fear and threat caused by the pandemic COVID-19, KMVites of Kanya Maha Vidyalaya have come forth to play its part of an institution committed to serve humanity since its inception way back in 1886. 
KMVites made & distributed masks which are in dire shortage to help people protect themsleves. The students of KMV are not only distributing the masks to vendors but are also giving these masks to the sarpanch of village and policemen in their areas in order to distribute it to the others. It is important to mention that KMV is running value added program of Social Outreach Program in which the students are taught to participate in various social welfare activities in order to contribute to the society in a positive manner. Under Swach Bharat Abhiyaan, our students of PG Department of Fashion Designing have also sitiched uniforms for the Safai Karamcharis and for the rag pickers. Principal Prof. (Dr.) Atima Sharma Dwivedi lauded the efforts of the students of B.Voc. (Textile Design & Apparel Technology) and averred that KMV always work for the upliftment of the society.
She further maintained that being the premier institution of India, it is the social responsibility of the students as well as the teachers of KMV to help the society through such crucial times & should try to contribute as much as possible to the society so that people should be able to face this crisis strongly & positively.