KMV celebrates National Girl Child Day by organising poster making competition
Safety and security of girl child are of utmost importance to create prosperous society and developed nation: Prof.Dwivedi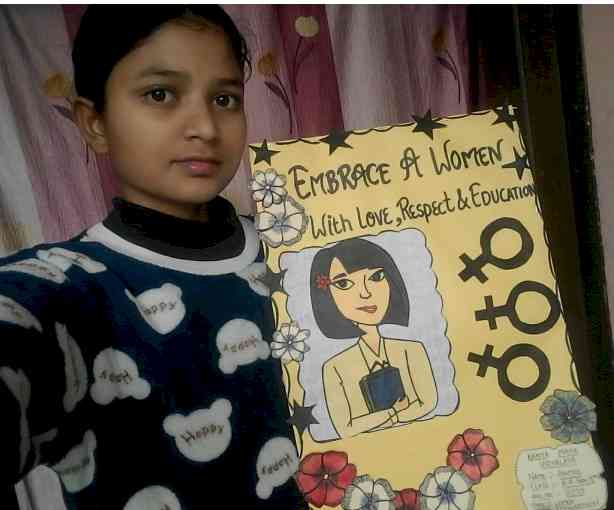 Jalandhar, January 24, 2022: Kanya Maha Vidyalaya (Autonomous) celebrated  National Girl Child Day. On this occasion, a poster making competition was organised by the Department of Student Welfare & PG Department of Fine Arts. Students through their posters beautifully depicted the importance of girl child in the society & also gave a message of Gender equality & women empowerment. 
More than 50 students participated in this competition with full zeal and enthusiasm. The prizes for the competition were sponsored by Dr. Sheveta Aggarwal, MD, Gynae, Vinayak Hospital, Jalandhar. 
Principal Prof Atima Sharma Dwivedi on this occasion averred that for any prosper & healthy society, the safety & security of girl child is of utmost importance. She further maintained that until we provide respectable & honourable position to the girls in our society, we won't be able to build a healthy & developed nation. She adumbrated that everyone should consider girl child a boon & a symbol of prosperity in their family. 
Prof Dwivedi said that on this occasion, we should all pledge to empower the girl child and ensure that no one faces gender discrimination, and to encourage all the girls to achieve greater heights so that they may be able to accomplish their dreams in their lives. 
Principal lauded the efforts of Dr Madhumeet, Dean, Department of Student Welfare & Mr Yogeshwar, Head, PG Department of Fine Arts for successfully organising the celebrations.