KMV among top colleges of North India: GNDU VC Prof Jaspal Singh Sandhu
Calls it an exceptional institution of higher education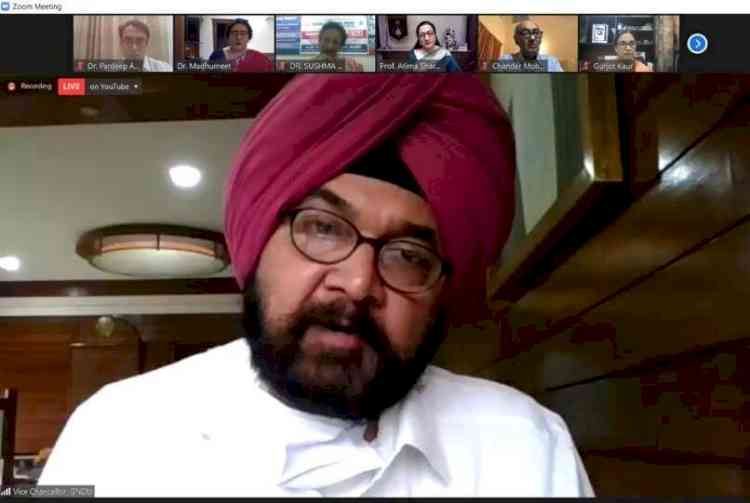 Jalandhar: Kanya Maha Vidyalaya had a proud privilege to receive Prof. (Dr.) Jaspal Singh Sandhu, Vice Chancellor, Guru Nanak Dev University, Amritsar as the Chief Guest during the 135th  Annual Prize Distribution function. 
In his address Dr. Jaspal Singh Sandhu expressed his profound pleasure on the achievements of KMVites and also on the outstanding progress of this iconic and historic institution. Dr Sandhu averred that KMV is one of the best colleges in North India and is at par with the top colleges of Delhi in terms of academic excellence, student friendly reforms, campus activities & teaching learning methodologies etc. Dr Sandhu maintained that it is very heartening to witness that the reforms introduced in New Education Policy have already been implemented very efficiently at KMV before the other institutions. Dr Sandhu further maintained that this institution is one of the pioneer in the country as its historical significance can be found from the fact that KMV has been visited by 5 Prime Ministers & 5 Presidents of India, which is indeed an  outstanding achievement and  he felt that it seemed that  no other college  could boast of such a glorious achievement. He further lauded KMV by saying that its contribution to Indian freedom struggle is also known to everyone. Calling KMV an exceptional institution,Dr Sandhu gave all credit for its success to 
Principal Prof. Dr. Atima Sharma Dwivedi as it is under her visionary leadership that KMV has the honour of becoming the first Autonomous women college of Punjab, achieving the coveted status of Heritage institution of India, being the first college under Guru Nanak Dev University, Amritsar to be granted with DDU Kaushal Kendra to impart quality based skill education to the students and  also becoming Star College of India for providing world class science education to the students. Dr Sandhu also praised the leadership of Shri Chander Mohan ji, President, Arya Shiksha Mandal for  in taking the KMV to new heights.Dr Sandhu adumbrated that under Autonomy college has achieved much success and is a role model for the other institutions as well in terms of state of the art infrastructure, examination related reforms, providing international exposure to its students through international collaborations with world renowned universities such as Boston University, Eotvos Lorand University, Hungary & Chatham University etc. Growing nostalgic, he recalled his previous two visits to KMV. As Chief Guest for the Convocation, he had visited KMV as Secretary UGC in 2017 and then as Vice Chancellor GNDU in 2019. Expressing his heartiest desire to visit KMV again in person,he also stated that his visit to KMV as Secretary, University Grants Commission was one of the most memorable visits of his life as he found KMV as one of the most advanced, well disciplined & futuristic institution blended with the traditional values, capped with exemplary philanthropic & social outreach initiatives.
Principal Prof Dr Atima Sharma Dwivedi expressed her gratitude to the Vice Chancellor and averred that under his exceptional guidance and with concerted efforts of all members of KMV family and constant support from Managing Committee KMV will continue to touch newer horizons and setting paradigms as vanguard in quality education.