Khanna Police stepped up enforcement measures amid rising Covid-19 cases
People are being made aware about do's and don'ts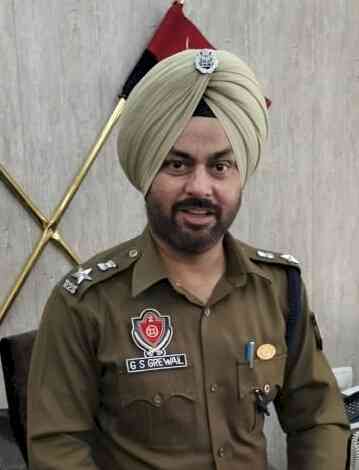 SSP Khanna Gursharandeep Singh Grewal.
Khanna: 
Gursharandeep Singh Grewal, SSP Khanna has informed through a press note that Khanna Police has stepped up the enforcement measures amid rising Covid-19 cases. 
People are being made aware about do's and don'ts, and innovative means have been adopted for this purpose, such as short songs have been released with the help of renowned Punjabi singers to get the message through to the people in simple and interesting manner.
Khanna police has also started involving the local community, youth, village elders and civil society organizations to ensure that Covid-appropriate behaviour is followed, particularly wearing of mask and maintaining social distance. 
In addition to it, responding positively to a call given by district police, as many as 75 panchayats and 28 ward councils have 
passed resolutions to join hands with the district administration in their fight against Covid.
Besides, as per the directions of Government of India, Government of Punjab and the Deputy Commissioner, Ludhiana, the district police has been deploying maximum force to enforce the government guidelines. Joint teams of Police and Health department officials have been created for sampling of violators, especially at crowded places, and more than 12,200 persons have been sampled by these teams since last month. 
Dedicated teams have been established for tracing contacts of positive patients to halt the spread of this deadly virus. Along with increased testing for covid. Khanna Police has also distributed close to 20,100 masks at public places to contain the spread.
Khanna Police has registered 46 FIRs u/s 188 IPC in during the past two weeks for violation  of government orders. 
Also, more than 1,670 challans have been affected since 
March 2021. 
The SSP also informed that a dedicated 24x7 Corona Cell is also 
functioning under district control room for swift action against the violators, any resident can share the information regarding violation of guidelines by calling at 112 or 95929-14053. The people are requested to follow the Covid-19 related guidelines and violations regarding the same will be taken.