Khanna police arrest 2 criminals
Recover arms and ammunition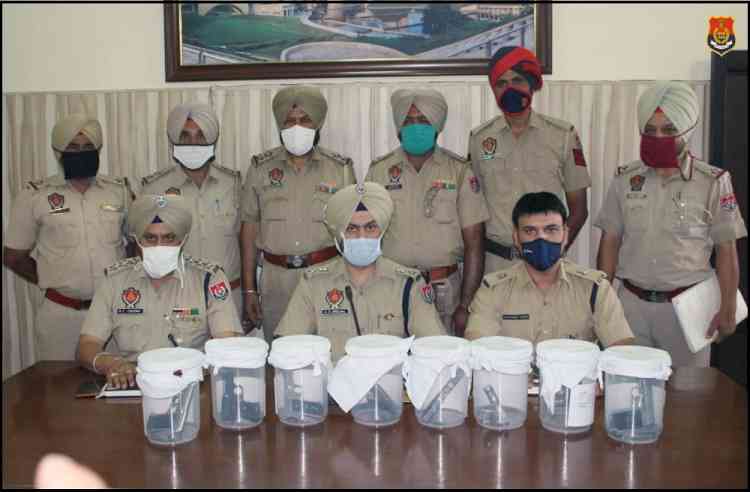 The alleged accused in the police custody of Khanna police and recovered illegal weapons.


Khanna: Today Gursharandeep Singh Grewal, SSP, Khanna, has said that Khanna police has achieved a huge success when under the supervision of Hardeep Singh, DSP Payal, SI Nachattar Singh SHO Doraha's ASI Amar Singh along with police party was present at a naka near FCI Godown G.T Road Doraha after receiving secret tip off that Lovejit Singh R/o Gandiwind Dhandal PS Chohla Sahib District TarnTaran and Jobanpreet Singh R/o Pakhopur PS Chohla Sahib District TarnTaran are coming with illegal weapons from Khanna to Ludhiana side in vehicle which can be apprehended with huge quantity illegal arms and ammunition. 
Addressing a press conference, SSP claimed that the car was stopped at naka and after frisking the bag 07 Pistols of .32 bore, 01 Pistol of .30 bore along with 12 Magazines were recovered from the possession of Lovepreet Singh and Jobanpreet Singh.      
A Case FIR no 83 dt 26.05.2021 U/s 25/54/59 Arms Act PS Doraha has been registered against them. 
SSP added that during initial investigation it has come to light that accused were in touch  with Dharamvir Singh PS Chohla Sahib PS TarnTaran  who bought this consignment of arms and ammunition from M.P. and going to supply in the area of Tarn Taran.
He said Lovepreet Singh has a criminal background and FIR no 58 Dt. 25.04.2020 U/s 399/402/ IPC 25 Arms Act PS Harike District TarnTaran already registered against him. The culprits are still being questioned, there are possibility of major disclosures, said the SSP. 
AT A GLANCE
 
Detail of recovered arms/ammunition:  
1) 07 Pistols .32 bore
2) 01 Pistol .30 bore along with 12 Magazines
Arrested Accused: 
1) Lovepreet Singh R/o Gandiwind Dhandal PS Chohla Sahib District 
    TarnTaran 
2) Jobanpreet Singh R/o Pakhopur PS Chohla Sahib District TarnTaran
Criminal Background of Lovejeet Singh:  
1. FIR no 58 Dt. 25.04.2020 U/s 399/402/ IPC 25 Arms Act PS Harike District TarnTaran