KHALSA AID CREATES LANDMARK WITH DISTRIBUTION OF 20,000 PLUS PPE KITS
DISTRIBUTES THESE KITS IN PUNJAB, HIMACHAL, JAMMU, HARYANA, DELHI, RAJASTHAN AND UTTRAKHAND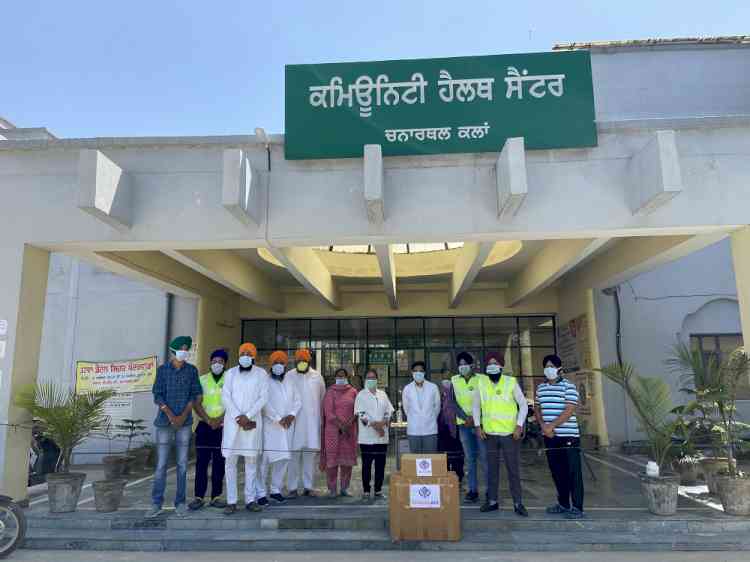 Ludhiana: Khalsa Aid has set a benchmark in public distribution of PPE Kits for fight against Corona Virus, by providing more than 20,000 of these kits to Hospitals, Police/Administration and all 108 ambulances of these states. To help the states in their fight against this dreaded disease the teams from Khalsa Aid have been travelling long and wide to make these much in demand kits available to stations all over the region.
 
Realising that the country and the northern states in particular were facing a shortage of PPE kits for tackling the virus and that the Covid warriors were ill equipped in performing their day to day duties, Khalsa Aid took it upon itself to provide the kits to all these states. Khalsa Aid has so far provided more than 8,000 kits in Punjab, 4,000+ kits in Haryana, 3,000+ kits in Delhi and Rajasthan and 2,000 + kits to Jammu and Himachal each and more than 1,000 PPE kits to Uttrakhand. With this endeavour Khalsa Aid has added another dimension to its public help and voluntary social responsibility.
 
While appreciating Khalsa Aids' efforts Mr. Sukhjinder Singh Randhawa, Hon'ble Cabinet Minister, Punjab said, " The Department of Prisons is thankful to Khalsa Aid for providing necessary items and equipment to the department for enhancing its capacity to tackle Covid 19," ADGP (Prisons) Praveen K Sinha said, " Khalsa Aid has always played a pivotal role in helping the needy during exigencies throughout the world, its members have proved to be real heroes who work silently without seeking attention. Humanity shall always hold such noble souls in high regard."
 
Amarpreet Singh (Director- Asia), Khalsa Aid said, "As there is shortage of PPE kits in hospitals, our main focus has been to support the hospitals and administration in this collective fight against this pandemic. With profound grief we have to inform that one of our volunteers Inderjeet Singh lost his life while on his way back from Bathinda after delivering the kits. Our volunteers have not had a minute's rest since the outbreak of this very dreaded disease. Khalsa Aid and its Volunteers will do whatever is possible to help the humanity without any prejudice and discrimination. We always go by the teachings of our Gurus and believe in 'Manas Ki Jaat Sabhe ekai Pehchanbo"
 
He further said that, "We are receiving requests from hospitals, dispensaries, police stations to provide them with kits and we are fulfilling these requests as per our stock. In such dire times, working collectively is the only solution to fight this virus. We have also decided to work with the media personnel and will be providing safety kits to them as well as we believe they are also in the forefront of this fight and are risking their lives so that the common man can sit at home and be informed about the latest news and happenings in and around the region and the country "
 
He also mentioned that the teams in Delhi and Punjab are providing ration and langar to the labourers and the marginalized society.