'Khaao Piyo Aish Karo' premiered today
Actors Tarsem Jasser And Ranjit Bawa overwhelmed with the response, movie releasing on 1st July 2022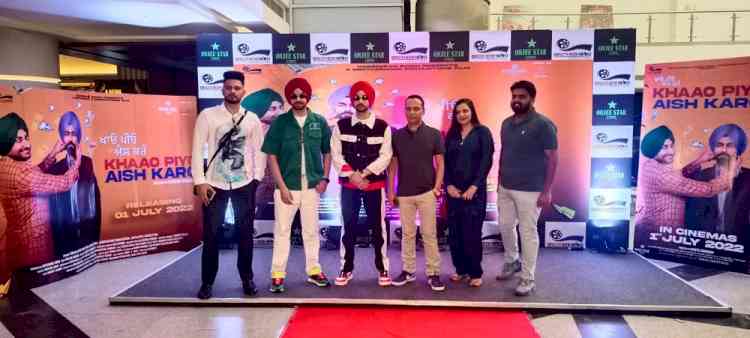 Ksshitij Chaudhary's impending Punjabi film "Khaao Piyo Aish Karo" written by Rakesh Dhawan produced by Harsimran Singh and Brotherhood Productions in association with Omjee Star Studios. Tarsem Jassar, Ranjit Bawa, and Gurbaaz Singh play major parts, with Jasmine Bajwa, Aditi Arya, and Prabh Grewal in the film. The premise of the film, as the title suggests, is intended to make the audience giggle with its plot of two brothers ending up in serious jeopardy. 

Other significant components of the film are its poppy and romantic tracks, sung by the famous singers of Punjab, Tarsem Jassar, and  Ranjit Bawa whose music is under the banner of Gem Tunes by Mix Singh, Jay K, Pav Dharia Beatinspector, and Gurmoh which have certainly left the audience grooving. The lyrics have been penned down by Tarsem Jassar, Sukh Sandhu, Diljit Chitti, Mahabir Sandhu, and Balli Baljit. 

The film's producer, Harsimran Singh, is thrilled to provide such a unique story: "I am overjoyed that the picture has finally been premiered and is now ready to be exhibited to the audience in theatres. The happy faces are the results of our hard work. People will be entertained to a great level by this all-new concept depicting the reality in Punjab."

As the director of the film, Ksshitij Chaudhary expresses his appreciation, "it is beyond happiness how a team's hard work is being appreciated by the audience at large. I also hope that the release of the film breaks all barriers with a huge success." 

Tarsem Jassar also expresses his gratitude for seeing the audience overwhelmed watching the film, "It is overwhelming that the film received an excellent response and we are thankful to everyone for praising our efforts and look forward to a positive public reception."

Conveying his gratitude Ranjit Bawa remarked, "I am glad that the concept of this new age is being introduced in the Punjabi business, and I hope that the audience will obtain and understand the depth of this reality-based witty film with open arms."