Kerala Literature Festival from January 12 to 15
One of Asia's largest literature festivals, the Kerala Literature Festival (KLF) will be held at Kozhikode beach from January 12 to 15.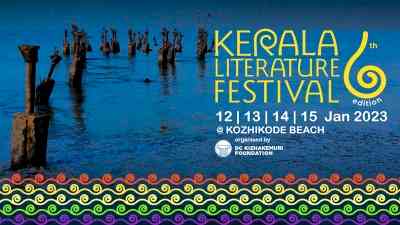 Source: IANS


New Delhi, Jan 10 (IANS) One of Asia's largest literature festivals, the Kerala Literature Festival (KLF) will be held at Kozhikode beach from January 12 to 15.
From Nobel laureates to Booker Prize-winning writers, and senior politicians to historians, journalists, film and theatre personalities, performers and artists, and diplomats, the sixth edition promises to host a spectacular list of delegates.
KLF is part of the tourist calendar of the region with participation from across India and from other parts of the world. The state Chief Minister Pinarayi Vijayan would inaugurate the four-day festival.
With a footfall of 3 lakh in the previous years, the sixth edition has also launched its own app. With the festival growing every year in huge numbers, a surge to 40,000 registrations is expected this year.
The app will allow the passing of information to a larger audience. Along with the basic features such as viewing schedules, and speakers list, the app will also allow the public to register for the literature festival, update regarding session changes, run contests and news pertaining to the literature festival.
Nearly 400 speakers from 12 countries are expected to attend the event to be held in six venues spread across the Kozhikode beach. They include Tamil Nadu Finance Minister Palanivel Thiagarajan, 2022 Booker Prize winner Shehan Karunatilaka, International Booker Prize winner Geetanjali Shree, Noble Laureates Ada Yonath and Abhijit Banerjee, American Indologist Wendy Doniger, Piyush Pandey, authors Jeffrey Archer, Francesc Miralles, Shobhaa De, Tushar Gandhi, MT Vasudevan Nair, Jerry Pinto, Shashi Tharoor, T. Padmanabhan, K. Satchidanandan, M. Mukundan, K.R. Meera and Sudha Murthy, historians Ramachandra Guha, William Dalrymple, and Manu S. Pillai, and Remo Fernandes. Film personalities Emily Perkins and Prakash Raj, politician Kapil Sibal, entrepreneur Kris Gopalakrishnan, and economist Sanjeev Sanyal, among others will also be present.
Invitees from Turkey, Spain, the US, Britain, Israel, New Zealand, the Middle East, the Far East, and other parts of the world will also be present.
The sessions at KLF, aim to map literature through discussions on aspects of science and technology, art, cinema, politics, music, environment, literature, pandemic & its impact, business and entrepreneurship, health, art and leisure, travel and tourism, gender, economy, culture genomics, history and politics, and various facets that shape human consciousness.
Fireside chats at night, music concerts and classical, theatre, and performing artists will make up the entertainment quotient at the festival.