Kaleidoscope of Indian culture through mesmerizing performances 
35th AIU National Festival- 'Amity Utsav' held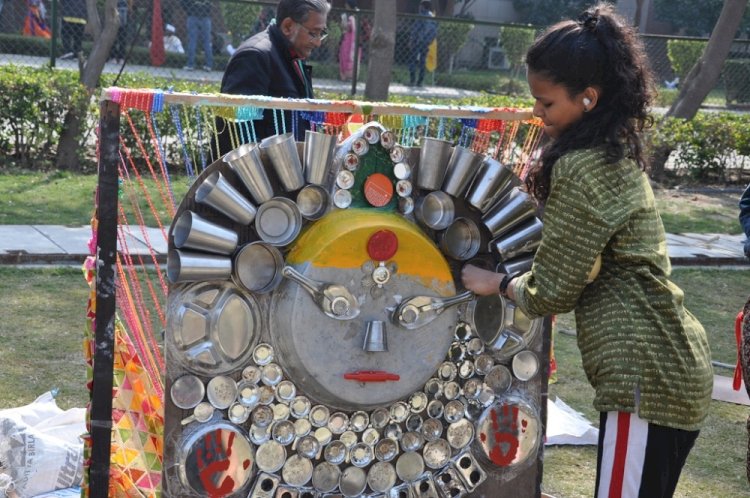 Installation making in progress during Installation Competition at Amity Utsav.
Noida: During the third day of ongoing 35th AIU National Festival- 'Amity UTSAV', 15 teams from across India put up a rousing show as part of 'One Act Play' competition. The teams had put in their best efforts to make the stories come alive on stage, which reflected in the detailing of the costumes, stage props, scripting and acting skills of the participants that garnered thunderous applause from the audience.
 
The plays were based on different issues such as battle of Saraighat, mistreatment of poor, environmental concern, women empowerment, family feudal system, pleas of rape survivors, fictional stories etc.
Team of Shivaji University, Kohlapur highlighted the story about millennial relationship issues named, 'Benefit of Doubt' wherein a boy is in a relationship with a career oriented girl but now he feels that his relationship has become monotonous so he starts to lie and hide few secrets from the girl. He gets into a complex situation when the girls tells him she wants to talk to him later in the day on something important, which gets him into thinking which lie of his is caught by the girl. This follows a series of hilarious imaginary situations. The team from Raja Mansingh Tomar Music and Arts University, Gwalior performed on a fictional story around exchange of spirits of a monk and a beautiful princess. Team from Dilrugarh University displayed a powerful performance about the battle between Mughal Empire and the Ahom Kingdom on the Brahmaputra River at Saraighat, now in Guwahati, Assam.
 
The plays were piloted in regional languages including Hindi, Assamese, Punjabi, Haryanavi etc.
 
First time participant, Vijaylakshmi Kumbhar from Shivaji University said that Indian culture is known for its unity in diversity, and such platforms provides an opportunity to youth to showcase the rich ethnicity of India.
 
In an initiative to promote creating best from the waste, an Installation Competition on theme 'Migration' was also held today. Teams from Gauhati University, Indira Kala Sangit Vishwavidyalaya, Khairagarh; Gulbarga University, Kalaburagi; Guru Nanak Dev University, Amritsar; Central University of Jharkand and many more participated in the competition, who had to create an installation, out of waste products, and their art work must reflect a process of change. The participants created models based around the theme such as farming, migration of birds or animals, students studying, map of India, a Goddess etc. The competition was a learning experience for all which promoted creativity and artistic excellence in the talented artistes of tomorrow.
 
Exploring the diverse culture of India through exquisite forms of Indian classical dance, 15 participants from various universities and institutions including Himachal Pradesh University, University of Kerala displayed their brilliant dancing skills in in Bharatanatyam, Mohiniyattam, Kuchipudi, Odissi, Kathak amonst others during Classical Dance (Solo) Competition. 
 
During the day, various other competitions were also held including Classical Group Song, Collage Making, Debate, Folk Orchestra, Classical Instrumental Solo (Non-Percussion) and many more.