IPR workshop conducted by Chair-IPR on 'Patents' and 'Copyrights' at PU
Speakers say, researchers should not publish their findings in public domain before filing patent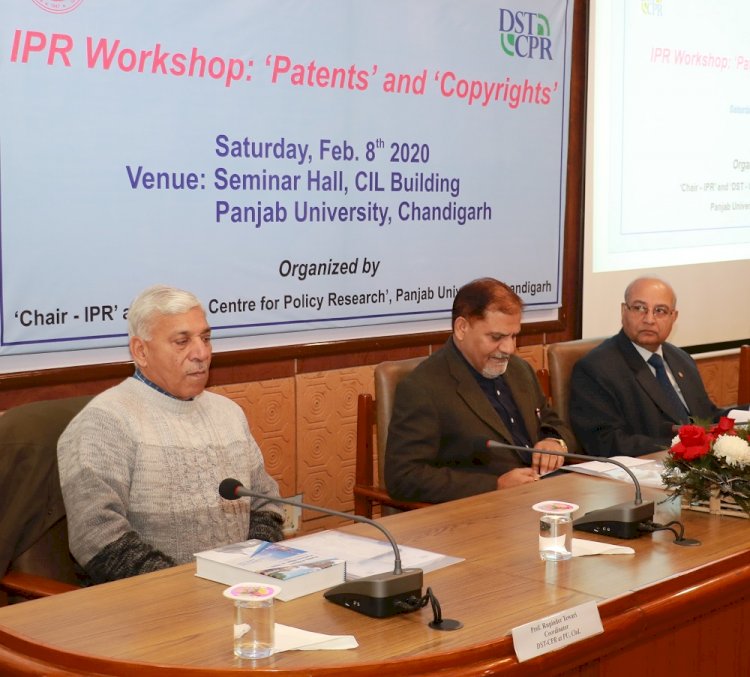 Chandigarh: In the current era of knowledge economy, Patents and Copyrights are the buzz words amongst the teaching fraternity of the Universities. Govt. of India also has a mandate of making teaching faculty in higher education institutions Intellectual Property Rights(IPR) savvy.   In order to sensitise the faculty of Panjab University and CRIKC institutions, to these topics, Chair-IPR (PU) and DST-Centre for Policy Research (CPR) at PU, Chd. collaboratively organized  a 'IPR Workshop: 'Patents' and "Copyrights' under the 'Faculty Development Programme' ,here today.
Prof. Rajkumar, Vice Chancellor, inaugurated the workshop.
Prof. Sudhir K. Jain ,ABV School of Management & Entrepreneurship, Jawaharlal Nehru University, New Delhi
deliberated about the importance of use of Intellectual property (IP) information for deciding research themes in universities and research laboratories. Additionally, he voiced prominent strategic points for promoting IP in the academia like setting aside a share of internal funding for IP activities, creation of IPR cells, and significant weightage of IP in the promotion criteria of university faculty. 
Mr. Raghavender, Jt. Secretary, Department of Justice, Ministry of Law & Justice, GoI, New Delhi and former Registrar of Copyrights of the Indian Copyright Office, introduce the issues pertaining to copyrights and importance of its registration.  He emphasised on the fact that there is a need of effective science communication mechanism to disseminate the science knowledge amongst the masses.
 Ms Divya Kaushik, scientist, Patent Information Centre (PIC) of Punjab State Council for S&T introduced the participants with the Technology Innovation Support Centre (TISC) centres recently established by the World Intellectual Property Organization (WIPO). 
The workshop was attended by faculty members of the University and CRIKC institutions. The participants deliberated on the importance and significance of patents and copyrights and how they can play a crucial role in enhancing economical and intellectual prestige of an institution. The speakers emphasised on the fact that, researchers should not publish their findings in the public domain before filing a patent.