International Yoga Day observed at Hero DMC Heart institute
Asanas were demonstrated to frontline health care workers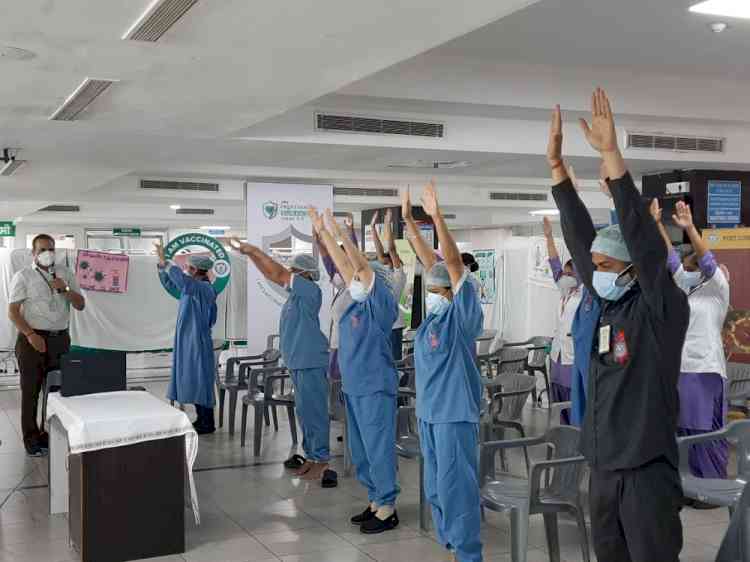 Ludhiana: International Yoga Day was observed today in main reception area of Hero DMC Heart institute. On the day, various 'yoga asanas' and  'pranayam' was demonstrated by Yoga Consultant Dr Sanjeev Singh Rawat. These 'asanas' were demonstrated to frontline health care workers, especially nurses and other staff in teaching them to build strong immunity and positive frame of mind.
 
Vice Principal & Chief Cardiologist- Dr GS Wander said that YOGA is very beneficial for healthy living and keeping heart healthy. Medical Supdt.(HDHI) Dr Bishav Mohan expressed that Hero DMC Heart Institute has an exclusive 'Department of Yoga' in HDHI premises where full time Yoga consultancy is given to the patients with cardiac ailments.  
 
Yoga consultant Dr Sanjeev Singh Rawat said that for the past few years, YOGA has gained popularity among people of various age groups According to Dr Rawat, doing 'asanas' daily keep your body healthy and also help in maintain peace and stable mind.   
 
Nursing Supdt. of Hero DMC Heart Institute Mrs Manjeet Bawa said that during COVID times, many nursing staff at DMCH and HDHI performed Yoga asanans to keep them in better frame of mind.