International Women's Day celebration at GNA University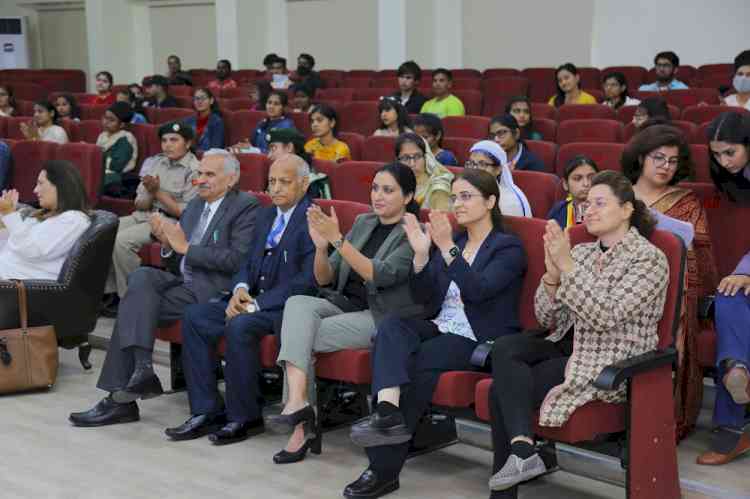 Jalandhar, March 9, 2022: March 8 marks the International Women's Day, which celebrates the achievements of women in all spheres of life. On this occasion, GNA University celebrated this day with the ladies of inevitable potential. The sole objective of the event was to provide a huge platform to the ladies with special talent so as to motivate others to follow their footsteps. 
The gala function was chaired by Ms. Jasleen Sihra, the renowned Nutrionist, with her gracious presence. The dignitaries who graced the occasion were the Vice-Chancellor GNA University Dr VK Rattan, Registrar Dr RK Mahajan, Dean Academics Dr. Monika Hanspal, and Ms. Kamna Raj Aggarwal, an empowered entrepreneur who is empowering many young women. 
Among the guests were Archie Sehgal, the Director at Achievers by Cynosure, Jalandhar, Ms. Anju Gupta, an academician, and Principal Swami Sant Das Public School Phagwara, Ms. Mandeep Kaur Tangra, a young leading women entrepreneur, Manpreet Kaur- Superintendent of Police Phagwara, Ms Neerja Dhingra, Principal APJ College of Fine Arts. 
The key speakers of the day were Dr Shail Kaur, Professor at PIMS, Jalandhar, Dr Sanjeev Lochan, MD-Psychiatry, and Dr Sonia Kamboj, a gynecologist and infertility specialist. All the doctors gave educative, informative, and practical sessions and guided each one about health in general and life in particular. The students as well as the audience present were enlightened by such educative and inspiring talks. The students showcased themselves in the garb of the most popular females who have been role models to many other females via the Iconography.
 
Ms. Jasleen Sihra, the renowned Nutrionist said, "Every day in the life of a woman is International Women's Day and I request every female to own your feminity with pride."
Ms. Kamna Raj Aggarwal, an empowered entrepreneur commented, "I daily interact with ample number of females and I feel there is a need of bringing drastic change in the empowerment of a woman."