International Women's Day celebrated in innovative manner at HMV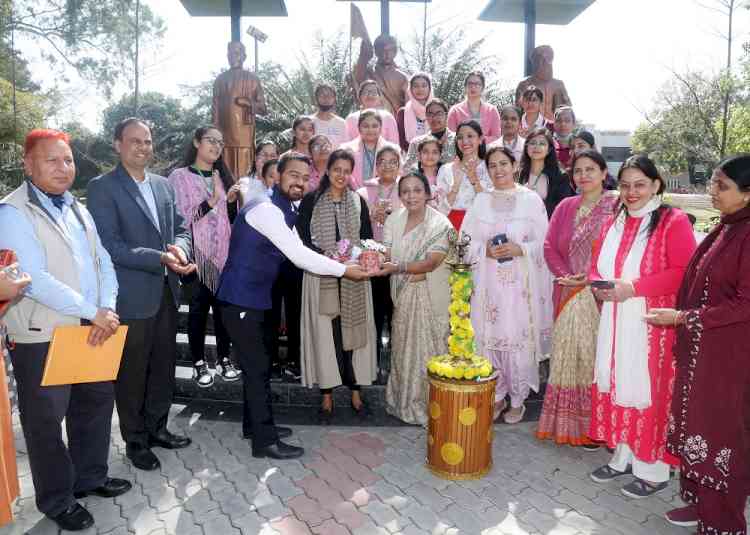 Jalandhar, March 8, 2022: Adding yet another innovative practice to its credit, Hans Raj Mahila Maha Vidyalaya, Jalandhar celebrated International Women's Day by celebrating the Woman hood and Mother Earth. Principal Prof. Dr. (Mrs.) Ajay Sareen said the lap of a mother is just like the shade of a tree and on International Women's Day, we need to realize the important part played by women and trees in the sustainability of the society and the planet. She further said that we must lift each other up for true empowerment.                   
Mrs. Ashika Jain, ADC (UD) was the Chief Guest of the occasion. Sh. Amarjeet Bains, ADC(G),  Sh. Ojasvi Alankar, Asstt. Commissioner (UT)  were the guests of honour. Mrs. Ashika Jain said that women should always strive to work for each other's empowerment. Sh. Amarjit Bains also said that women should not be confined to kitchen only. Sh. Ojasvi said that women have always played a great role in democracy. Dr. Anjana Bhatia, Dean Innovation & Research urged the women to stop the practice of female foeticide totally. On this occasion, the student council of HMV planted trees, cut a cake, presented poems and celebrated the Women's Day with full enthusiasm. Mrs. Kuljit Kaur, Staff Secretary recited a poem on Women Empowerment. Students also prepared a video on the occasion. Earlier, HMV also supported a Cycle Rally organized by Ride to Roar Cycling Club to mark the beginning of Women's Day Celebration. On this occasion, all Deans, Heads, Section Heads and Mr. Surjit Lal were also present. Tree Plantation Drive, Card Making Competition was also organized by NSS Unit to mark the gala celebration. Students of Fine Arts Department and Design Department draped trees with Sarees under the guidance of Dr. Rakhi Mehta, Dr. Neeru Bharti and Dr. Shailendra.