International women's day celebrated at govt college of yoga education and health
Around 95 participants enthusiastically participated in the celebrations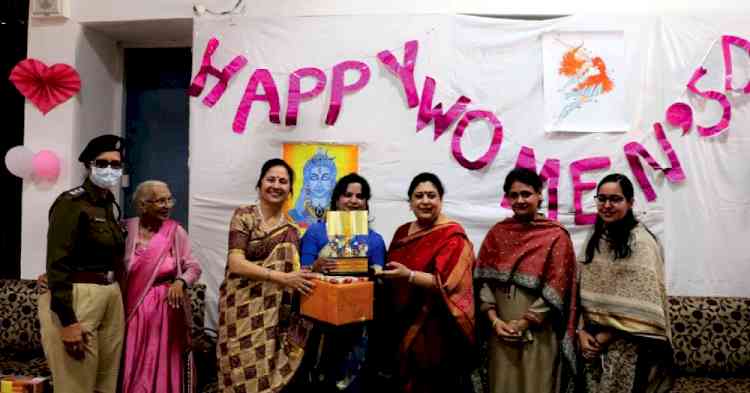 Chandigarh: Govt. College of Yoga Education and Health, Sector 23 A, Chandigarh celebrated 'International Women's Day' on theme 'Women in Leadership: Achieving an equal future in COVID19 World' to appreciate and acknowledge the contribution of the women in leadership roles for their tremendous efforts in shaping a more equal future and recovery from COVID19 pandemic.
The celebration witnessed the presence of distinguished women personalities who have excelled in various fields. The Chief Guest on this global day was Smt. Lippi Parida, a renowned artist, poet and author who was accompanied by Mrs. Jaswinder Kaur, I.A.S., M.D. CITCO, Ms. Nitika Pawar I.A.S. Special Secretary Personnel U.T., Mrs. Harjit Kaur, DSP Chandigarh, Professor Anita Kaushal, Principal P.G.G.C. College Sector-11 Chandigarh, Dr. (Mrs.) R. Puri, founder President of Indian Dietetic Association, Chandigarh Chapter was the Special Guest for the occasion.
Dr. Sapna Nanda, Principal of the college welcomed all the eminent women personalities and shared their achievements, accomplishments and their inspiring life stories. In her address she spoke about the need and importance of empowering women and talked about the immense contribution of women in combating the global pandemic.
All the distinguished women present for the occasion shared their experiences and challenges faced by them in their journey of success. They also motivated students, staff and general public members to treat women at par with men and provide them with ample opportunities to realize their true potential which is the foremost responsibility of every society to achieve a gender equal world.
The Chief Guest Mrs. Lippi Parida in her presidential address spoke about the need to reiterate commitment to respect and fulfill women's rights and advance their aspiration through equality in all walks of life. She stressed upon the innate strength and capabilities of women and need to further empower and facilitate them in the best possible way to achieve their desired goals.
The celebrations continued in the afternoon with the inauguration of a five-day yoga camp for women officers and supervisors of the Social Welfare Department in collaboration with the Department of Social Welfare, Women and Child Development, Chandigarh Administration and the opening ceremony of the same was graced by Ms. Navjot Kaur, P.C.S. Director Social Welfare, Women and Child Development, Chandigarh Administration. In her address, she motivated and encouraged all the participants to imbibe yoga in their lifestyle and to lead a meaningful life.
A variety of cultural items were presented by the students of the College as part of the celebration which comprised of yoga demonstration, group songs and dance. The special attraction of the day was a skit showcasing the nine colors of womanhood.
Vote of thanks was proposed by Dr. Mohinder Kumar. The celebrations concluded with the National Anthem.
Around 95 participants enthusiastically participated in the celebrations.