International girl child day celebrated by NSS UILS Panjab University
Organised webinar on 'let us value girl child"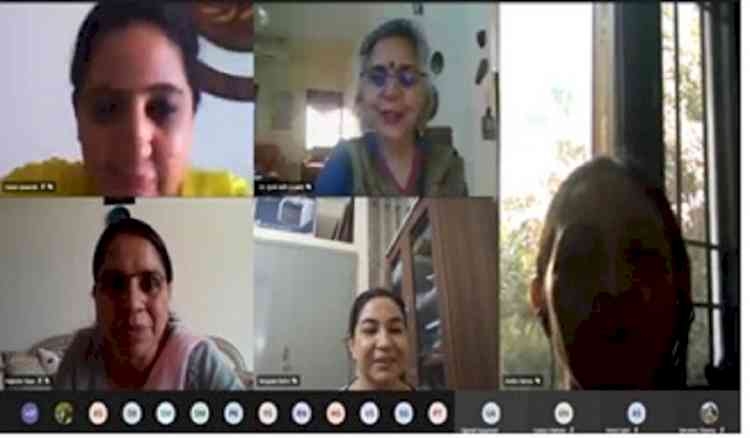 Chandigarh: NSS team and Legal Aid Society of University Institute Of Legal Studies organized a Webinar on 'Let us Value Girl Child" today on account of International Girl Child Day.          
International girl child day is celebrated /observed every year on 11th October. The event commenced with the Welcome address given by Director of UILS, Prof. (Dr) Rajinder Kaur welcoming over 60 attendees and the speaker of the event Prof. Jyoti Seth, Professor of Sociology, Post Graduate Government College of Girls, Sector 42, Chandigarh.
She highlighted that the theme of this year's International Girl Child Day is "My voice, our equal future". The theme focuses on how girls globally are leading the way. This year, Day of the Girl Child is also significant as the 'Generation Equality' campaign has been launched. It is a "multi-year, multi-partner campaign and movement for bold action on gender equality". She also told that International Day of Girl Child, 2020 marks 25 years of the Beijing Declaration and Platform for Action for working towards empowering girls and their rights globally. The Beijing Declaration is one of the first "most comprehensive international agreements on women's rights and gender equality". She explained how the problems and situations faced by women and girls are different worldwide and how is it important to address both separately and how clear agenda and multi-pronged approach is essential to look after the needs and opportunities of adolescent girls. She even showed various power point presentation and short films about how is it important for girls to voice their opinions and shun patriarchal thoughts.
The event culminated with queries to the speaker and gave their insights on the topic. Programme Officers of NSS Unit of Panjab University also attended the webinar. The event was a huge success due to the efforts of the teacher coordinators Dr Amita Verma, Dr Karan Jawanda and Dr Anupam Bahri .